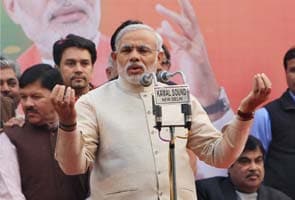 New Delhi:
The gloves now off,
Narendra Modi
made a direct attack today on Chief Minister Nitish Kumar saying Bihar would not forgive him for snapping ties with the BJP.
Mr Modi was interacting with about 1,500 BJP leaders and workers from across Bihar through teleconference on Saturday evening. His agenda was to discuss election strategy with them, but much of the conversation was dominated by the angst over Mr Kumar's Janata Dal (United) calling off their 17-year-old partnership last month.
The Gujarat Chief Minister did not name his Bihar counterpart when he hit out at him; but he was answering Sushil Kumar Modi, Nitish Kumar's deputy till last month, who named the Bihar CM as he brought up what he called the public and party workers' anger at the JD(U) dumping the BJP.
Till last month, Mr Kumar ran a coalition government in Bihar with the BJP. He projected Mr Modi's elevation as the BJP's election campaign committee chief to break the partnership. For months before, Mr Kumar derided Mr Modi, always without naming him, for being a divisive leader and failing to check the riots in Gujarat in 2002, in which hundreds of Muslims were killed.
Prior to their break-up, the JD(U) had, for years, also banned Mr Modi from campaigning in Bihar, a writ the BJP had accepted. At today's teleconference, Sushil Kumar Modi invited the Gujarat CM to Bihar and Narendra Modi confirmed that he would visit.
Mr Modi's choice of Bihar as the launch pad for his electioneering was also seen as an attempt to boost the morale of the BJP cadres after the split.
"I salute the people of Bihar. Look at the IAS, IPS, 80 per cent are from Bihar. They have been endowed with much intellectual prowess. They make the country proud," said Mr Modi today, adding, "Bihar and Gujarat are made for each other," as he talked about the contribution of the people of Bihar in the growth of his state.
About 500 state working committee members and district party office bearers, an equal number of district and block level presidents participated in the hi-tech conference; and the rest of Mr Modi's audience was made up of party workers at the grassroots level and people from social organisations.
The JD(U) scoffed at the effort saying Mr Modi's hi-tech efforts would have no appeal for the masses in Bihar. (
Read: Modi's hi-tech will not move Bihar's masses, says JDU
)