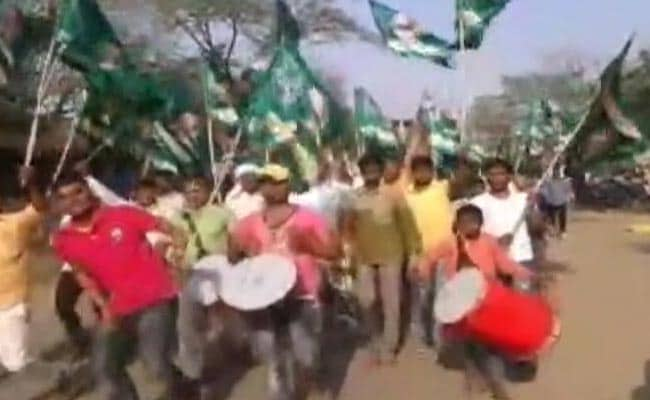 Highlights
Bypolls will also test leadership skills of RJD's Tejashwi Yadav
In Araria, RJD's Sarfaraz Alam eyeing chunk of Muslim-Yadav voters
RJD's Suday Yadav is ahead by a big margin in Jehanabad
Patna:
The BJP and the RJD may have held on to their seats in the Bihar bypolls but the results come as a setback for Chief Minister Nitish Kumar.
It was his first major electoral challenge since he walked out of the mahagathbandhan last year and joined hands with the BJP. By-elections to the Araria parliamentary constituency, and Bhabua and Jehanabad assembly seats were seen as a referendum on Mr Kumar's decision to switch allies.
And a win in just one of the three seats for the BJP-JD(U) alliance would not be seen as public endorsement of Mr Kumar's assertion that he swapped allies "in the interests of Bihar".
For 28-year-old Tejashwi Yadav, who led the opposition campaign as his father and RJD chief Lalu Prasad is in jail in a corruption case, holding on to Araria and Jehanabad will come as a huge morale booster. Mr Yadav has repeatedly attacked the chief minister of what he calls betraying the mandate given by Bihar's voters in the 2015 assembly polls.
"I express my gratitude to everyone for the love, trust and support shown in the RJD. I dedicate this win to the people of Bihar," tweeted Mr Yadav.
Retaining Araria would signal that the RJD's Muslim-Yadav vote bank is intact, even after the exit of the JD(U) from the grand alliance, and without Lalu Prasad campaigning. The seat won by the RJD's Mohd Taslimuddin in 2014 was contested by his son Sarfaraz Alam. The ruling alliance had fielded BJP's Pradeep Kumar Singh who had won the seat in 2009 and had finished runner up the last time when the BJP and JD(U) contested separately but had polled more votes cumulatively than the RJD.
In Jehanabad, where bypolls were held after the death of RJD's Mundrika Singh Yadav, his son defeated the JD(U)'s Abhiram Sharma who had won the seat in 2010 when his party was an ally of the BJP. The loss by a margin of over 35,000 votes reflects anger against the chief minister's prohibition policy and curbs on sand mining that the opposition alleges has led to joblessness and a crackdown against Dalits and backward communities.
Holding on to Bhabua would come as a relief for the ruling coalition that had fielded the BJP's Rinki Rani Pandey, the widow of Anand Bhushan Pandey who held the seat earlier.
"To lose two of three electoral contests is unexpected," JD(U) national spokesperson Pavan Varma told NDTV.
Asked about the JD(U)'s alliance with the BJP, Mr Varma said, "It was a decision of a party headed by Nitish Kumar. But it was certainly a reversal of an ideology that Nitish Kumar has stood for a long time".