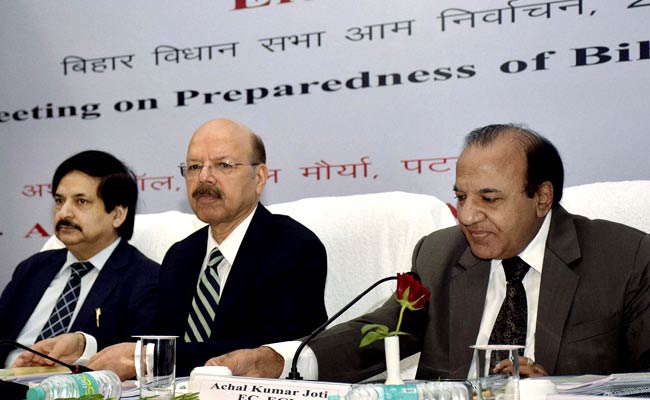 patna:
The Election Commission is yet to announce the dates of Bihar Assembly elections, but Chief Election Commissioner Nasim Zaidi today said the poll process in the state will be completed before November 29.
Dr Zaidi's announcement puts a lid on speculations that the polls were heading to dates beyond November 29, the day the tenure of the present Assembly expires.
The speculations fuelled as August and September are times of floods in the state and this period will be followed by festivals like Bakri Id, Dushehra, Muharram, Diwali and Chhath slated for October and November.
President's Rule would have to be imposed in the state if the election process is not over by November 29.
Dr Zaidi was on a two-day visit to Patna for review meeting on preparedness for Assembly elections. He met representatives of 10 national and state parties, as well as, top administrative officers including the Chief Secretary and the Director General of Police (DGP).
On the poll dates and phases, Zaidi said, "Political parties have given their suggestions regarding election timetable, floods and festivals. We have taken all inputs, which will be duly considered and a decision will be taken at and appropriate time."
The CEC expressed satisfaction over his meeting with state government officials.
Dr Zaidi said Bihar Chief Secretary Anjani Kumar Singh and DGP Thakur have assured him that the model code of conduct will be strictly implemented and communal harmony maintained at all cost.
The CEC said all political parties have demanded deployment of Central Paramilitary Forces (CPMF) on all polling centres to ensure free and fair voting and the EC will consider the demand.
"Our effort will be to deploy more CPMF personnel in comparison to the numbers used in the previous Assembly elections in the state in 2010," Dr Zaidi said.
The total number of polling stations in Bihar has risen to over 63,000, around 3,000 more than the ones during the previous polls, he said.
The CEC said all out efforts will be made to conduct free, peaceful highly participatory polls and all government officials working in the state will be under keen observation of EC till the elections are completed.
He said that officials against whom complaints have been received from political parties will be reviewed once model code of conduct is in force.
The CEC said as per photo electoral rolls published in the state on July 31, there were 6.68 crore voters in Bihar, of which 3.56 crore were male.
During the summary revision of photo electoral rolls done between May 15 to July 15, 16.97 lakh new names were added and 5.86 lakh names were deleted leading to a net increase of 11.11 lakh voters. Altogether 6.77 lakh corrections were made in the rolls.
Altogether 24 lakh voters in the age group of 18 and 19 years in the state will get the first chance to exercise their franchise during the Assembly polls, while total 99.98 per cent voters have been covered by Election Photo Identity Cards (EPIC).
Dr Zaidi said he has directed the officials to ensure that voters who come to polling centres get a good experience and assistance. Basic minimum facilities of ramp, drinking water, toilets, lighting, access and roads will be ensured at all polling centres.
During a meeting, the CEC directed the administrative officers to ensure conducive, peaceful polls with all out efforts to maintain law and order, ensure special vigilance and strategies for sensitive areas, step-up preventive action, disposal of pending arrest warrants and crackdown on illicit arms, weapons and liquor.
The CPMF deployed will also be used for area domination and confidence building measures among the public.
Vulnerability mapping of SC, ST, weaker sections, people of deprived categories will be done and action will be taken against those who bully them during the elections, Dr Zaidi said.
He said a special strategy has been developed to check misuse of money power in the elections and all 243 Assembly constituencies in the state have been divided into A, B and C categories as per their sensitiveness.
"Expenditure sensitive pockets have been identified and persons indulging in distribution of money, gifts, liquor have been marked. Special watch will be kept on them. We have also provisioned use of GPS for EC flying squads so that their position could be monitored and complaints against them could be verified," he added.
Dr Zaidi pointed out that 52 per cent voters cast their vote during the 2010 Assembly polls in the state and he expected more voters will exercise their franchise this time.
Voter awareness campaigns will also be conducted to ensure this.