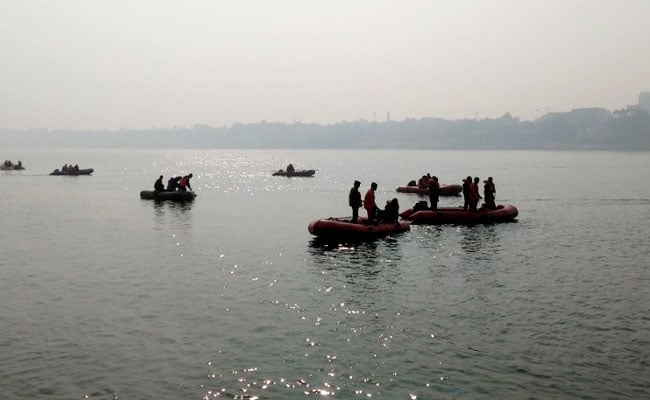 Patna:
Five more bodies were recovered from Ganga this morning, raising the number of deceased in Patna boat tragedy to 24. The boat, carrying around 40 people, capsized on Saturday evening. The state government has ordered an inquiry into the incident. Six of the rescued people have been admitted in a local hospital. Prime Minister Modi, who expressed his grief over the accident on Saturday, has announced Rs 2 lakh compensation for the families of the deceased. The state government has announced a compensation of Rs 4 lakh.
Here are the top 10 latest developments
The accident occurred around 5.30 pm on Saturday evening. Rescue operations, which were hampered by the darkness, resumed this morning.

Bihar Chief Minister Nitish Kumar has ordered an inquiry into the accident. Officials have been asked to look into the lapses that led to the incident. Patna District Magistrate Sanjay Agarwal and district police officers are camping at the site.

The overcrowded boat, which had taken people for a free ride, was returning from a three-day annual kite flying festival, organised by the state Tourism Department as part of Makar Sankranti celebrations.

The boat had capsized close to the bank due to overloading, Magistrate Aggarwal said.

The special lunch that was being organised today by Mr Kumar's Janata Dal (United) for all the political parties, including opposition BJP on the occasion of Makar Sankranti, has been cancelled following the tragedy.

The Tourism Department said the kite festival was over but the crowd had remained for a Disney Mela, which was being held a km away. It is not known who gave permission for the mela.

The rescue operations had been delayed for over an hour due to confusion over the jurisdiction. The kite festival was on under the jurisdiction of the Patna District Magistrate, but the area where the boat capsized was under the Chapra District Magistrate.

The ferry services by the Inland Waterways Jetty were withdrawn for over an hour. It was resumed after the intervention of the Tourism Department. Officials said the stoppage of the ferry service may have led to the overcrowding on the ghat.

The Prime Minister has announced a compensation of Rs. 50,000 for those seriously injured in the boat tragedy.

Further festivities in the Ganga Diara area have been called off.