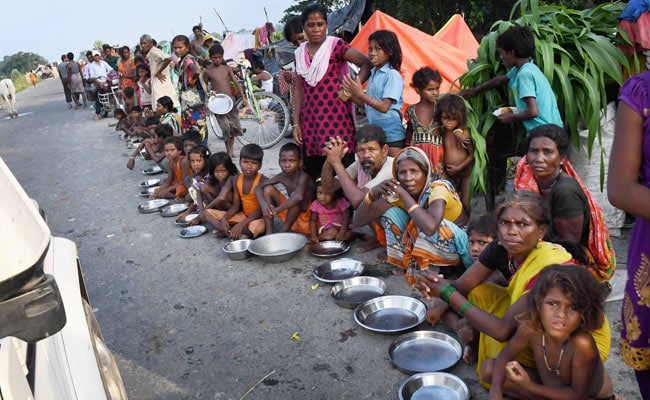 Highlights
Around 1.26 crore people are facing the deluge in 18 districts of Bihar
4.21 lakh people have been shifted to relief camps
Araria district remains one of the worst hit, reporting 57 deaths
Patna:
The number of dead in the devastating floods in Bihar has gone up to 253 as the situation worsened with more areas getting affected. Around 1.26 crore people are facing the deluge in 18 districts of the state. Earlier on Sunday, Bihar Chief Minister Nitish Kumar thanked Prime Minister Narendra Modi for sending the army and teams of the National Disaster Response Force to flood-hit parts of the state for relief operations - barely hours after the chief minister sought help from the centre.
Here are the top 10 developments in this story:
The weather department said Patna, Gaya, Bhagalpur and Purnea are likely to witness generally cloudy sky with the possibility of rain or thundershower tomorrow.

According to the Disaster Management Department, 4.21 lakh people have been shifted to 1,358 relief camps in different parts of Bihar.

As of Saturday, 202 people had died and 1.21 crore people were affected in 18 districts.

A disturbing, widely circulated video showed a family of three - a woman, a girl and a man - being swept away in water in Bihar's Araria district as a bridge they were walking on collapsed. One of the worst hit districts, 57 people died in Araria alone.

Some of the other affected districts are Sitamarhi, West Champaran, Katihar, East Champaran, Madhubani, Supaul and Madhepura.

Bihar Chief Minister Nitish Kumar said the state government will help people in the flood-hit districts to rebuild their lives. "There will be no shortage of funds...The disaster victim has the first right to the government's funds," he said.

Nitish Kumar had instructed officials for intensive airdropping of food packets in Kursakanta, Palasi, Sikti and Jokihaat in Araria and the Sugauli area in East Champaran.

Officials said the major rivers in Bihar - Koshi, Mahananda, Gandak, Bagmati and Ganga - have breached banks due to excessive rains.

Heavy monsoon rains have caused floods in several states including Assam, West Bengal, Uttar Pradesh. In Uttar Pradesh, Bihar's neighbouring state, 69 people have died in floods. The Assam floods, apart from destroying crops and homes in the last three months, have killed hundreds of small and big animals in Assam's forests.

Four more people died in Assam floods despite the flood situation in the state improving slightly. Assam Nearly 19 lakh people still affected in 15 districts of the state due to the natural calamity.