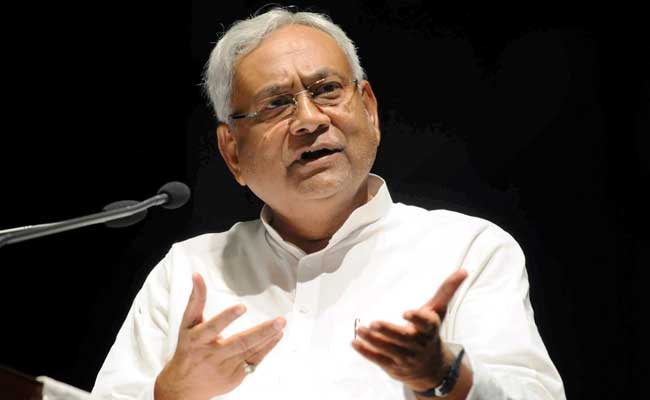 Patna:
Bihar Chief Minister Nitish Kumar owns movable and immovable assets worth Rs 56.23 lakh but his 33-year-old son, Nishant, is more than four times richer than him.
Mr Kumar has movable assets worth Rs 16.23 lakh, in addition to 1,000 square feet flat in Delhi, valued at Rs 40 lakh, according to details of assets declared by the chief minister on the state government's website.
However, his son, who keeps a low profile, has assets worth Rs 2.43 crore. Mr Kumar's son is dependent on him due to health issues. His movable assets are valued at Rs 1.18 crore, while immovable assets are worth Rs 1.25 crore. Most movable and immovable properties of Mr Kumar and his late wife are owned by their only son.
Apart from the chief minister, 27 other cabinet ministers revealed the details of their assets and the details were uploaded on the state government website on Monday. As per the details, Deputy Chief Minister Sushil Kumar Modi is also richer than his boss, with movable assets worth Rs 94.92 lakh, news agency PTI reported.
Mr Modi declared movable assets worth Rs 94.92 lakh which include Rs 46.54 lakh as bank deposits, a Maruti Swift car valued at Rs 4.38 lakh and jewellery worth Rs 2.94 lakh. His wife owns movable assets worth Rs 1.35 crore which include Rs 73.28 lakh in bank deposits and jewellery valued at Rs 12.60 lakh. The couple jointly owns a 1825 sq feet plot of land in Gautam Budh Nagar district in Uttar Pradesh worth Rs 33.73 lakh.
Besides, Mr Modi has outstanding loans and dues of Rs 16.09 lakh.
The value of Mr Kumar's total assets saw a marginal decline of Rs 26,000 compared to the previous year when it stood at Rs 56.49 lakh. The Bihar Chief Minister, who is also the national president of the JD(U), owns two cars - a 2015 model Ford Ecosport and a 2016 model Hyundai Grand I 10 Asta.
His outstanding vehicle loan has come down to Rs 43,458 from last year's Rs 3.79 lakh.
Nishant's assets include ancestral land, both agricultural and non-agricultural, besides residential buildings at Kalyanbigha in Nalanda district and Hakikatpur in Patna district's Bakhtiyarpur.
Besides, Nishant has inherited a plot at Kankarbagh in Patna, a post office account, balance of bank accounts, ornaments and receipts from the government on account of salary, GPF, gratuity etc. from his late mother's side. Mr Kumar's wife Manju Sinha, a teacher at a government school, passed away in 2007.
Rajiv Ranjan Singh alias Lalan Singh, another senior minister in the cabinet, who belongs to the chief minister's party, owns assets worth Rs 6.30 crore.
With inputs from PTI