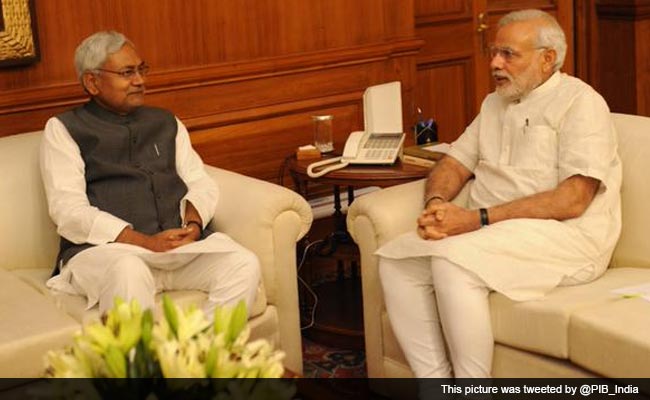 Patna:
Bihar Chief Minister Nitish Kumar met Prime Minister Narendra Modi today for the first time since he stepped into office again last month.

Mr Kumar is in Delhi to attend the Prime Minister's meeting with five chief ministers about Ganga Action Plan. But at the one-on-one meeting with the PM earlier today, Mr Kumar said he raised the issue of implementation of the 14th Finance Commission recommendations and the fallout for his state.

The PM's office described the meeting as a courtesy call.

Bihar contends the state will lose an "estimated Rs 50,000 crore loss" if the recommendations are implemented.
"Bihar will have a loss of Rs 10,000 crore in 2015-16... The state is under strife because many schemes that are sponsored by the centre have been stopped," Mr Kumar told the media after the meeting.

"I have requested that Bihar should be compensated for this. Bihar should get attention of a special state. Bihar should get help on investments and tax concessions."

At the meeting Mr Kumar had also handed PM Modi a memorandum drawn up after an all-party meeting in Patna on Monday. Though the BJP had skipped the meet, the attending parties - the RJD, Congress, CPI and CPI(M) -- had agreed about the financial loss to Bihar.


Sources said the Prime Minister has assured Mr Kumar that his office will be in touch to sort out any apprehension the state has.
During the 40-minute meeting, the two leaders also discussed the land bill and how it's passage is needed to improve the industrial scenario in the country.
Mr Kumar had snapped ties with the BJP after Mr Modi was projected as the BJP's Prime Ministerial candidate ahead of the Lok Sabha polls last year. Lately, he had accused the BJP of scripting the rebellion of his predecessor Jitan Ram Manjhi. After becoming the chief minister, he said in the interest of Bihar, he was ready to meet PM Modi.
"We may be political opponents but in terms of development, we have to work in sync," he had said.
Mr Kumar's meeting with PM Modi came as the Akhil Bharatiya Vidyarthi Parishad, the students' wing of the BJP, held a massive protest in Patna against the government's educational policies, which ended in violence.