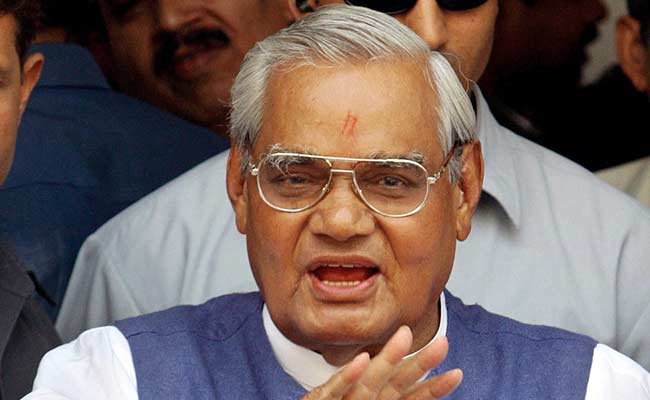 New Delhi:
The government is likely to announce today the name of former Prime Minister Atal Bihari Vajpayee and freedom fighter Madan Mohan Malaviya for the Bharat Ratna, India's highest civilian award.
Prime Minister Narendra Modi is expected to recommend the names to President Pranab Mukherjee on Wednesday after a cabinet meeting.
Sources say the announcement is being timed for the 90th birthday of the veteran BJP leader on Thursday, which is being celebrated by the central government as 'good governance day'.
The decision was taken at a meeting PM Modi held with top BJP leaders including Arun Jaitley, Sushma Swaraj, Nitin Gadkari, Rajnath Singh and Amit Shah, the party president.
Mr Vajpayee, the three-time prime minister considered the gold standard of leadership in the BJP, will be the first leader from the country's political right to be given a Bharat Ratna.
The BJP, which took power in May, has been demanding the Bharat Ratna for Mr Vajpayee for the last five years. The party had strongly criticised the previous Congress-led government when cricket icon Sachin Tendulkar and eminent scientist CNR Rao were named for the award but Mr Vajpayee wasn't.
A Bharat Ratna for Dr Madan Mohan Malaviya, the freedom icon and educationist popularly known as 'Mahamana', was one of the promises made by PM Modi during his campaign for the national election.
The Banaras Hindu University, founded by Dr Malaviya, is in the Prime Minister's constituency Varanasi in Uttar Pradesh.
The Bharat Ratna Award, instituted in 1954, recognizes "exceptional service/performance of the highest order." Names are recommended by the Prime Minister to the President.
Recipients receive a certificate or Sanad signed by the President and a peepal-leaf shaped medallion.
43 people have been honoured with the Bharat Ratna till now, including leading politician C Rajagopalachari, scientist C V Raman and singer Lata Mangeshkar.