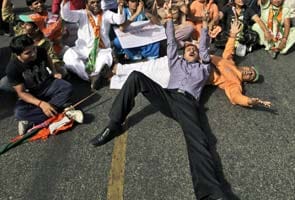 New Delhi:
There has been a mixed response so far to the Bharat
bandh
called by the BJP and the Left today to protest last week's hike in petrol prices. The hike was the steepest ever at Rs 6.28 plus local taxes, and the demand for a rollback has been universal. Many people in the metros and other cities have chosen to stay home.
There have been reports of several BEST buses in Mumbai being stoned, buses being set on fire and being stoned in Karnataka and trains have been stopped in UP's Allahabad, and places in Odisha and Jharkhand. In East Delhi, BJP workers have blocked an arterial road that connects Ghaziabad to Delhi, causing much inconvenience to office-goers at a time when the temperature is soaring uncomfortably high.
(Read)
In the national capital, BJP leaders including Ananth Kumar and Vijay Goel were arrested. Left leaders like CPI(M)'s Prakash Karat and Sitaram Yechury and CPI's D Raja were also taken into custody. In Bihar, Sharad Yadav, who is the president of the ruling Janata Dal (United) and the Convenor of the BJP-led National Democratic Alliance, was detained in Saharsa for trying to enforce the
bandh.
BJP leader Shahnawaz Hussain was also taken into custody.
(Read: Sharad Yadav arrested for enforcing bandh)
Big UPA allies like the Trinamool and the DMK too have strongly protested, but both parties made it clear that they will not destabilise the central government. In Trinamool-Congress-ruled Kolkata, early morning saw fewer people on the road. Kolkata does not have a big presence in West Bengal, but has managed an effective strike in some areas like the Howrah Bridge which it has blocked.
(Read)
In Mumbai, apart from the sporadic incidents of violence reported from the suburbs of Andheri and Mulund, the empty local trains during the morning hours tell the
bandh
story. All Opposition parties in Maharashtra, the BJP, the Shiv Sena, the Republican Party of India and the Left are observing the
bandh
. The BJP and Shiv Sena have promised that essential services will not be affected, but have appealed to shopkeepers to keep their establishments closed. The Mumbai Police is not taking chances and have deployed 48,000 cops on
bandh
duty. Special attention is being paid to sensitive areas like Chembur, Dadar, Jogeshwari, Govandi and Byculla. Though the city's taxi and autorickshaw union leaders have said that they will not participate in the
bandh
, there could be fewer people out driving for fear of violence and damage to vehicles.
In the capital, traders, autorickshaws and business organisations have said they will participate in the
bandh
. Delhi is already seeing transport and traffic problems as BJP workers block traffic and stage demonstrations at major locations.
(Read: Traffic during bandh - areas to avoid in Delhi)
"Friend" of the UPA Mulayam Singh Yadav of the Samajwadi Party (SP), prominent by the side of the Prime Minister and Congress president Sonia Gandhi at the UPA's anniversary dinner a few days ago, is not extending his friendship on the petrol issue. His party opposes the hike and the Akhilesh Yadav government in Uttar Pradesh has announced a statewide
bandh
. The UP government has also informed the assembly that its cash-strapped exchequer cannot afford to ease the burden on the common man by withdrawing the more than 20 percent value added tax (VAT) that the state imposes on petrol, unlike Congress-ruled states like Delhi, Kerala and Uttarakhand, which have cut VAT. A district leader of the SP, Ravindra Yadav, even said the party had burnt an effigy of PM Manmohan Singh in protest.
"Today we are doing protest in the whole state on the direction of Mulayam Singh Yadav. People are continuously dying due to corruption and inflation. If they don't control inflation, then we will do hunger strike and self-immolation," Mr Yadav said.
Delhi: Auto strike hits commuters
Fewer autorickshaws are plying on the roads with many unions having joined the strike.
(Watch)
Nearly 55,000 autos and 15,000 taxis are expected to stay off the road.
BJP workers have blocked roads in east Delhi as part of the nationwide shutdown. There were reports of some roads being blocked in north Delhi as well. The Delhi Traffic Police is also sending text messages to people as part of its 'alerts'.
Nearly 300 trader associations in the city will also keep markets shut to support the shutdown.

Sporadic violence in Maharashtra; police on alert in Mumbai


In Mumbai, two drivers were injured and 42 BEST buses were damaged today in stone-pelting by protestors.
In Nagpur, Shiv Sena and BJP workers burnt tyres and also attacked buses.
In Satara, Shiv Sena and BJP workers have stopped all buses from plying in on the roads. They have also asked shops to close down.

Protests in West Bengal:
In Kolkata, BJP workers tried to block the road to the airport at Baguihati. They also burnt rubber tyres. The police finally dispersed the crowd and one person was arrested.
Bandh
supporters also blocked the Howrah bridge, which connects the metropolis to the Howrah district. Protestors torched a stationary state government bus, but there were no injuries. Police have arrested 38 people for trying to disrupt traffic by putting up road blockades in various areas of Kolkata and Howrah.
Protestors also blocked roads at Chapadali More in Barasat in the Bankura district, Budge Budge and some other places, police said. They also damaged some buses in some places, they said.
Partial shutdown in Karnataka:
The
bandh
disrupted normal life in parts of BJP-ruled Karnataka where three buses were set on fire and stoned about a dozen others forcing authorities to withdraw bus services in the city. Public transport was hit and shops and business establishments remained shut in several parts of the state.

Protests in Uttar Pradesh:


Samajwadi Party workers are protesting on railway tracks in Allahabad, raising slogans against the Centre. They have also blocked a few trains.
(Watch)

Protests in Bihar:


JD(U) workers have staged a rail
roko
in Patna and local trains have been affected. Party president Sharad Yadav was arrested in Saharsa.
Protests in Jharkhand:
Three Rajdhani trains - Delhi-Howrah, Delhi-Sealdah and Delhi-Bhubneshwar - have been stopped near Koderma.