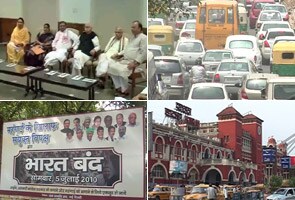 New Delhi:
NDA leaders led by Nitin Gadkari on Monday held a protest rally and courted arrest here as part of their nationwide strike against price rise, with the BJP chief blaming Prime Minister Manmohan Singh for the situation.
Addressing a rally at Chandni Chowk area, Gadkari said, "Price rise has nothing to do with your religion, caste or community. Wrong economic policies and bad governance of the government are the basic reasons of price rise."
Seeking to unite the whole opposition on the issue, Gadkari said he did not believe in "political untouchability" and was willing to visit the office of any political party to discuss price rise.
He claimed that whenever non-Congress governments came to power, there was no price rise and inflation.
"When they (Congress) came to power, they promised to bring down prices in 100 days but instead of coming down, it has increased by three to four times," Gadkari said.
The BJP President said NDA would raise the issue of price rise in both Houses of Parliament in the forthcoming session.
Key NDA allies JD (U) and Shiromani Akali Dal were also a part of the rally here.
Gadkari claimed that the basic cost of petrol was only Rs 16.50 per litre but it was being sold for Rs 53 per litre after taxation. The price of petrol was much less in several countries, he said.
Accusing Prime Minister Manmohan Singh of being responsible for price rise, he said the money of the poor was going into the hands of the multinationals.
"Unfortunately the Prime Minister and the government are concerned about oil companies, not the common man," he said.
He also asked why UPA Chairperson Sonia Gandhi and Congress general secretary Rahul Gandhi were "silent" on the issue of spiralling prices.
NDA Convenor and JD (U) President Sharad Yadav said this was for the first time in India's history that all political parties have come together against the government.
"This government has left everything to the market," Yadav alleged, and asked the Prime Minister to "either bring down prices or leave his chair".
Former BJP President Rajnath Singh alleged that the government was "dancing to the tunes of America" and warned that the party will not allow Parliament to function during monsoon session beginning July 26 on the issue of price rise.
The NDA leaders, also including Akali Dal's Harsimrat Kaur, later courted arrest in Chandni Chowk.
As part of the protest, BJP activists blocked traffic and rail services in some parts of the capital. The party workers blocked roads in Laxmi Nagar, ITO, Preet Vihar, Akshardham and Madhuban Chowk among other areas.