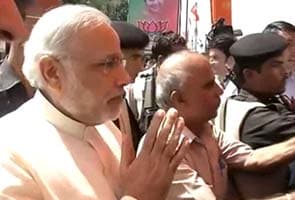 New Delhi:
It is unlikely to be the last word said today on the matter, but the attempt made by the BJP's Meenakshi Lekhi at clever rhyme did stand out as she joined the wordy scuffle that the Congress and the BJP have indulged in all day. It was better, she said, "to be a Rambo than a dumbo or a scambo."
"Rambo" is the snide epithet assigned by the Congress to Gujarat Chief Minister
Narendra Modi
ever since a newspaper reported that he had visited flood-hit Uttarkhand and rescued 15,000 Gujaratis stranded there. Mr Modi's party the BJP has since said that he has never attested to such a rescue.
But the Congress has tried to keep the controversy alive, also today when Ajay Maken, the new head of the party's communications department tweeted: "Pyre of many victims of this natural calamity still warm. First BJP tried to take credit of evacuating 15000 in a day."
Mr Maken's was one of almost two dozen tweets that flew from leaders of both parties in an unseemly blame game over Uttarakhand, even as the grim task of tracing the thousands missing and cremating the many dead continued in the state. Today's war mainly centred around the Congress criticising BJP leaders Sushma Swaraj and Arun Jaitley, who lead the Opposition in the two Houses of Parliament, not having visited Uttarakhand.
Ms Swaraj matched tweet for Congress tweet over many hours. Ms Lekhi, who is a BJP spokeperson, said in the evening, "BJP leaders were asked not to go to Uttarakhand by the government as rescue operations are still on."
She then slammed Mr Maken for his attack on her party's leaders and said, "People who have not shown leadership stoop low to use words such as Rambo. It's a thousand times better to be a Rambo than be a dumbo or a scambo."
Scambo is presumably an innovative twist to the BJP's continued attack on the Congress-led UPA government over the many scams that have rocked it in recent months.