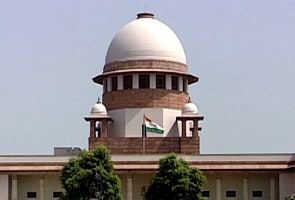 New Delhi:
The Supreme Court today said panchayat polls in West Bengal will be held in five phases starting July 11. The dates decided by the court are July 11, 15, 19, 22 and 25.
After the Supreme Court rescheduled the dates, Chief Minister Mamata Banerjee said elections during Ramzan would pose problems for Muslims, but a court order has to be accepted.
"We wanted the elections in winter. We did not want polling during the monsoon," Ms Banerjee told a panchayat election meeting in Hooghly district, and added "Elections during the Ramzan month will pose problem for the people of the minority community. We did not want it. But sometimes, we have to accept under compulsion when there is a court order."
The state poll panel and the Mamata Banerjee-led state government had been at loggerheads over the issue of deployment of central security forces for the polls for the last two months.
Now, the state government will have to provide 35,000 security personnel in all five phases and the Centre will provide the rest, the Supreme Court said today. The Centre will have to deploy 15,000 security personnel for the first two phases, 25,000 for the third and the fourth phase and 2,000 personnel for the last phase.
The court passed the order on a petition filed by the state election commission which had approached the Supreme Court seeking its direction to the state and the Centre to provide adequate security personnel for the election.
The election body contended it was not possible to hold violence-free polls in the prevailing circumstances as enough security personnel were not available.
The Supreme Court had on July 26 issued notices to the Centre and West Bengal government seeking their responses to how to meet the requirement of security personnel for conduct of the panchayat elections in the state.