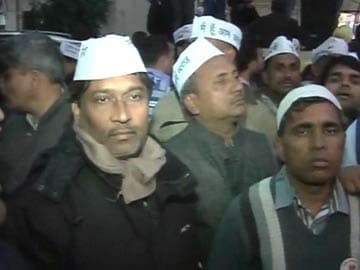 New Delhi:
Scores of Aam Aadmi Party supporters cheered as they watched a live telecast of Delhi Chief Minister Arvind Kejriwal telling the Delhi assembly, "This seems to be our last session." Shortly afterwards, he wrote his resignation letter and held a ceremonial cabinet meeting.
Mr Kejriwal was chief minister for 49 days.
He suffered a major embarrassment after his move to table the anti-corruption Jan Lokpal bill was struck down in the Delhi assembly on Friday. He had said earlier that he would resign if the bill was blocked.
The Aam Aadmi Party reportedly started sending a mass SMS asking its volunteers to gather at its office in Hanuman Road, not far from the Chief Minister's home, moments after the Jan Lokpal Bill was declared "not tabled". Within an hour, a large crowd had assembled there; people are still pouring in.
Many supporters at the AAP office, which is a sea of regulation Aam Aadmi Party caps, said Mr Kejriwal should resign and fight the national election, due by May. "He will win the Lok Sabha election and come back as Prime Minister," said a supporter.
AAP has already said it will contest a massive over 350 seats in the polls.
This afternoon, Mr Kejriwal had tried to table the Jan Lokpal bill despite Lieutenant Governor Najeeb Jung's warning that the bill does not have his consent.
The Congress, which provides external support to the AAP government, and the opposition BJP joined forces in demanding a vote on the letter. They said any move to introduce the bill would be unconstitutional.
Speaker MS Dhir then called for a vote, in which the tabling of the bill was rejected.