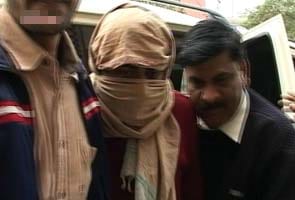 New Delhi:
A Delhi court will hear arguments on the quantum of sentence for
Shahzad Ahmed
, who was convicted last week in the controversial 2008 Batla house encounter case. It might also sentence Shahzad today.
Shahzad Ahmed is the only man arrested in the case. He was found guilty last Thursday of murdering inspector Mohan Chand Sharma, who led a Delhi Police team that stormed an apartment building in Batla House in Delhi's Jamia Nagar on September 19, 2008. The cops later alleged that terrorists from the Indian Mujahideen were holed up there.
Two suspected terrorists were shot dead along with Inspector Sharma. Shahzad, whose passport was found in the flat, was arrested a year and a half later from his village in Azamgarh, Uttar Pradesh. A fourth man managed to escape. They all belonged to Azamgarh.
Various politicians and activists, including Congress leader Digvijaya Singh, had alleged that the encounter was fake and that Inspector Sharma had been killed by "inter-departmental rivalry". They cited the fact that the cop was not wearing a bullet-proof vest while facing men believed to be deadly terrorists.
Last Thursday, the court criticised the police for that lapse and also pointed out that two other officers were not armed during the operation. But it ruled that it was Shahzad Ahmad who, as one of the occupants of the apartment, shot the police officer dead.
The judge said he had not been given evidence to prove that Shahzad Ahmed is a terrorist, but he also said that his focus was on the killing of the police officer. "For the purpose of decision of this case it hardly matters as to whether accused was affiliated to Indian Mujahideen or not," he said.
P Chidambaram, who was Home Minister at the time of the controversy, said the verdict proves that the encounter was genuine. "I am happy that the Delhi Police was able to prove its case," he said.
The Batla House encounter took place about a week after serial blasts in Delhi in which more than 26 people were killed and over 100 injured. The Delhi Police have alleged that men in the apartment that it stormed, were responsible for the terror attack.
Shahzad Ahmed has denied any association with the Indian Mujahideen and claims that he was not in the apartment where the alleged terrorists were located. His lawyers are expected to appeal against his conviction.