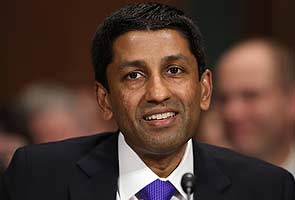 Washington:
US President Barack Obama has described Indian-origin lawyer Srikanth Srinivasan, who created history by becoming a top federal judge, as one of his "favourite" persons.
"I was proud to nominate Sri, and he was just confirmed unanimously to become the first South Asian American federal appeals court judge," Mr Obama said addressing at a White House reception held to celebrate the month of Asian American and Pacific Islanders (AAPI) last evening.
"I was telling his kids, who are here today, if he starts getting a big head, walking around the house with a robe asking them to call him 'Your Honor' then they should talk to me," Mr Obama said amidst laughter.
Media reports suggest Mr Obama might consider nominating Srikanth Srinivasan, one of his favorite legal luminaries, for the Supreme Court judge in case of the next vacancy on the bench.
Last week, Mr Srinivasan was confirmed by the US Senate (97-0) votes as a judge on the DC Circuit Court of Appeals, which is considered as the top court of the country after the Supreme Court. He is the first Indian American to achieve the feat.
Mr Obama, in his speech, also singled out Indian-American musician, producer and composer Karsh Kale, who was invited by the White House along with others for a performance on the occasion.