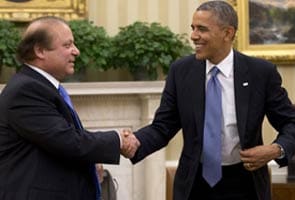 Washington:
As expected, Pakistan Prime Minister Nawaz Sharif failed to get any traction with President Barack Obama on his wish list - US mediation on Kashmir, nuclear parity with India and an end to drone strikes on suspected terror dens in Pakistani territory.
Despite being rebuffed by both India and the US, Sharif did once again dutifully raise Kashmir during his two hour meeting with Obama at the White House, but the joint statement made no mention of it or the drones.
Speaking to the media with Obama after their Oval office meeting, Sharif said he was committed to cooperation with India, including on Kashmir.
And while India has described Pakistan as the "epicentre of terrorism" and linked any progress on peace talks to Islamabad shutting down its "machinery of terrorism" he told Obama that "terrorism constitutes a common threat" for Pakistan and India.
"We need to ally our respective concerns through serious and sincere efforts without indulging in any blame game," Sharif said. He had also "brought up the issue of drones in our meeting, emphasizing the need for an end to such strikes," he said.
Obama, on his part, made no mention of either Kashmir or drone strikes in Pakistan that according to Sharif "has become a major irritant in our bilateral relationship" besides being a "a continual violation of our territorial integrity."
Acknowledging tensions and "misunderstandings" between the two countries, Obama said he and Sharif had pledged to work together on security issues in ways that "respect Pakistan's sovereignty.
"We committed to working together and making sure that rather than this being a source of tension between our two countries, this can be a source of strength for us working together," he said.
Obama also praised Sharif for seeking to end tensions with India saying, "I think he is taking a very wise path in exploring how decades of tension between India and Pakistan can be reduced."
Noting that "billions of dollars have been spent on an arms race in response to these tensions," he said those resources could be much more properly invested in education, social welfare programmes on both sides of the border between India and Pakistan.
The joint statement noted that "the two Leaders stressed that improvement in Pakistan-India bilateral relations would greatly enhance prospects for lasting regional peace, stability, and prosperity, as it would significantly benefit the lives of citizens on both sides of the border."
In this context, it said Obama welcomed recent engagements between Sharif and Indian Prime Minister Manmohan Singh.
He "expressed hope that this would mark the beginning of a sustained dialogue process between the two neighbours, aimed at building lasting peace in South Asia and resolving all outstanding territorial and other disputes through peaceful means."
Obama also "welcomed steps taken by Pakistan and India to improve their economic relations, including by exploring electricity and gas supply agreements, developing a reciprocal visa regime, and expanding bilateral trade."
Obama and Sharif, the statement said also "welcomed progress on the Turkmenistan-Afghanistan-Pakistan-India (TAPI) pipeline project, and tasked the Energy Working Group to explore possible further US support for the Central Asia-South Asia electricity line, CASA-1000, in close collaboration with the World Bank."
Reflecting the focus of the Obama-Sharif session, the joint statement mentioned "terrorism" 13 times saying both leaders "condemned terrorism in all its forms and manifestations.
They also "emphasized that no country's territory should be used to destabilize its neighbours."
The word nuclear too figured ten times in the joint statement, not in the context of India type civil nuclear deal that Sharif wanted, but in the context of nuclear terrorism.
Obama and Sharif, the joint statement said "emphasised that nuclear terrorism is one of the most challenging threats to international security" and "underscored that all sides should continuously act with maximum restraint and work jointly toward strengthening strategic stability in South Asia."