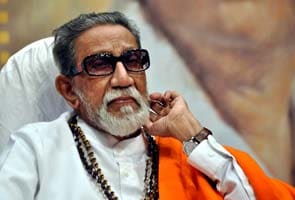 Mumbai:
Shiv Sena chief Bal Thackeray's condition continued to show signs of improvement on Friday evening. This has led to crowds outside his residence diminishing and a semblance of normalcy returning to Mumbai.
Shiv Sena MP Sanjay Raut said that "the prayers of millions of his supporters have started working" and Mr Thackeray's health was gradually improving.
"He is like our god. Very soon he shall be able to appear in public for his admirers," Mr Raut said on Friday.
Thousands of Shiv Sena workers who had gathered outside the Thackeray residence Matoshree in Bandra also began dispersing.
After a tense Wednesday night, Uddhav Thackeray addressed the gathering outside Matoshree on Thursday and said his father's condition was stable.
"He is stable and we are doing everything we can. His health is improving. He is better than yesterday. We have still not given up hope," Uddhav said.
Several party leaders had appealed for calm on Thursday.
Bal Thackeray has been under the care of a team of specialists from Lilavati Hospital at his home. According to party leaders, an ICU had been created at Matoshree with all emergency equipment and medical and paramedical staff on duty round-the-clock.
On Friday, Rakesh Roshan, Suresh Oberoi and son Vivek, yoga guru Baba Ramdev and several people from the Marathi film industry visited Matoshree.
Meanwhile, pujas, aartis and havans continued in temples and public places besides special prayers in mosques, churches and gurudwaras across Maharashtra for Bal Thackeray's speedy recovery.