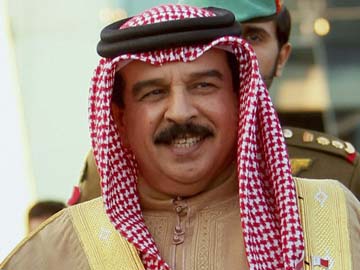 Manama:
Bahrain's King Hamad Al Khalifa will seek to bolster his country's long-standing ties with India and open up new horizons of cooperation in all sectors during his first visit to the country, a senior minister has said.
During his three-day visit, the two sides will also discuss latest regional and global developments and issues of mutual concern, according to an official statement.
Hamad is scheduled to hold talks with President Pranab Mukherjee, Prime Minister Manmohan Singh and other senior Indian officials.
Minister of Transportation and Acting CEO of the Economic Development Board (EDB) Kamal bin Ahmed said the King's visit to India is in line with the kingdom's keen interest to boost ties with India and South Asian countries and open up new horizons of joint cooperation in all fields.
The minister told Bahrain News Agency that a number of agreements and memoranda of understanding will be signed with India during the visit.
Ahmed said the King's visit starting from today is meant to re-affirm Bahrain's interest to boost its deep-rooted ties with India which boasts of a strong economy and a great number of investors who can take advantage of Bahrain's strategic location and investment incentives to enter the USD 1.5 trillion Gulf Cooperation Council (GCC) market.
GCC is a political and economic union of Arab states bordering the Persian Gulf, namely Bahrain, Kuwait, Oman, Qatar, Saudi Arabia and the United Arab Emirates.
Bahrain is an important trading partner for India with non-oil bilateral trade in 2012-13 exceeding USD 1.3 billion.
Over 350,000 Indian nationals work in Bahrain.
Ahmed said that the visit of the Bahraini economic delegation to India last month was welcomed by Indian investors and businessmen.
He said that a 120-member delegation will visit New Delhi on the sidelines of the Royal visit.
Indian ambassador to Bahrain Mohan Kumar welcomed King Hamad's visit to India.
"We are absolutely delighted with this visit. His Majesty has never been to India," he told the local media.
Hamad's father Shaikh Isa bin Salman Al Khalifa visited India in 1981. External Affairs Minister Salman Khurshid had visited Bahrain in December. Bahrain's Foreign Minister Sheikh Khalid bin Ahmed bin Mohammed toured India in October 2009.