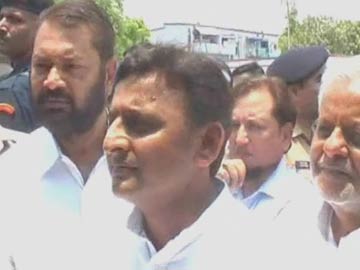 Lucknow:
Chief minister Akhilesh Yadav, who faces intense criticism over crime in Uttar Pradesh, met senior police officers in state capital Lucknow today, even as a BJP leader was shot dead about 500 km away in Muzaffarnagar.
Omveer Singh, 40, was the deputy leader of the BJP in the town of Mirapur in western UP. He was walking towards his farm from his home, when he was shot five times by unidentified gunmen on a bike. He reportedly returned fire with his revolver, before dying on the spot.
Only Saturday, another local BJP leader, Vijay Pandit, was shot dead by four men in Greater Noida. Mr Pandit too was accosted by gunmen on motorbikes on Saturday. They put a gun to his temple and shot him. There have been protests in the area since.
The murders come very soon after the gang-rape of two teen girls who were found hanging from a tree in Badaun, an image that provoked outrage globally. The CBI today began investigating the Badaun case. Several other cases of brutal assault on women in UP have followed, prompting Mr Yadav's political rivals to demand his dismissal for being unable to ensure law and order.
The 40-year-old chief minister will be in Delhi later this week and is expected to meet Prime Minister Narendra Modi.
Mr Yadav's first priority is to restore his government's badly damaged image. He promised after his meeting with top officials today, "We will improve law and order."
A worried Mr Yadav reportedly cautioned his officers that UP is a politically sensitive state and any incident has the potential to embarrass the government. He has asked top cops and officials at the district level to be more alert and visit a crime scene immediately and take strict action. "He gave examples how action is not being taken," said UP chief secretary Alok Ranjan.
The state BJP's Laxmikant Bajpai said today about the CM, "Whether he holds meetings or transfers officials, there will be no result...He should have a political will."