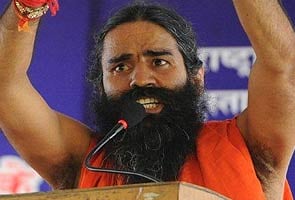 New Delhi:
Yoga guru Baba Ramdev, who is on a fast at Delhi's Ramlila Ground demanding immediate steps to bring back black money, has warned the government that he is ready to be the first one to be arrested if required, and will go to jail if needed. He told his supporters that he would announce the next agenda for his movement tomorrow. "There will be a revolution and all of you need to stay here tonight as well," he said.
He also mentioned that politicians were hoping that the protests would die down but that was not going to happen. "We will not be quiet, till we don't uproot them," he told the thousands who had gathered at the ground.
Earlier, Baba Ramdev warned of a "big revolution" if the Prime Minister did not meet his demands for enactment of a strong Lokpal and measures to end corruption.
Though he was to announce his plans on Saturday evening, Baba Ramdev has been extending his deadline and deferring announcement of his next course of action. He had said on Saturday evening that he will announce his strategy on Sunday morning but he deferred it again.
As his fast entered the fourth day today with the government continuing to ignore the protest, he wrote a letter to Prime Minister Manmohan Singh, asking that his demands be accepted and suitable measures taken to implement them.
As his deadline till this evening expired, Baba Ramdev took on the Congress alleging that the ruling party may be shying away from action as the black money stashed abroad may be that of its leaders and people close to it.
"What is the danger that Congress perceives in bringing back black money or declaring it national asset, if they do not own it?" he asked.
"We will now go from village to village telling them, may be Congress people own this black money and so they do not want to declare it national asset. No, it is not that we feel so, they have proved it by not taking action," he said.
He also alleged that Congress was not enacting Lokpal bill because it fears that 90 per cent of its ministers will land in jail if a strong anti-corruption law is in place.
He said people will have to vote for those parties which support their demands and not elect those who do not support them.
Defending his attack on the Congress, Baba Ramdev said the party is responsible for what happened to the country as it was in power for a long period and cannot escape responsibility.
He said some people have asked him not to go on protest and go for a compromise.
"I told them we will not compromise on our ideology and ethics...," he said, adding people in power have become "deaf" to the cries of the common man.
Earlier in the day, the yoga guru said he was ready to continue his fast till a decision on his demands were taken. "The fast will not end today. When it will end, I will tell you tomorrow," he said.
Baba Ramdev also targeted the Prime Minister saying he has to show political honesty and political will on the matter.
He alleged that Dr Singh did not honour the promise on declaring black money a national asset or taking steps to bring back black money stashed away abroad.
"When UPA came to power, the Prime Minister promised that black money will be brought back in 100 days. Many such 100 days have gone by but black money is still stashed in tax havens abroad," he claimed.
"You are being hailed as an honest person. We don't doubt your personal honesty. But you will have to show political honesty and political duty. If you do not do your duty, then there will be a question mark on your political honesty," Baba Ramdev said.
The fourth day of Baba Ramdev's protest also saw erstwhile Team Anna member Kiran Bedi making a presence at the fast venue though Anna Hazare and other members of the team have kept away.
(
With PTI inputs
)