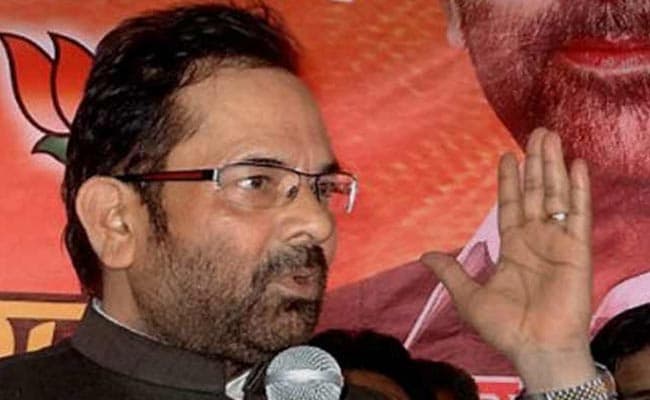 New Delhi:
The central government is awaiting a report on the Dadri mob killing incident it had sought from the Akhilesh Yadav dispensation in Uttar Pradesh to ascertain factual position and action taken by the state, Lok Sabha was informed today.
"As law and order is a state subject, a report has been called for ascertaining the factual position, comments and action taken by the state government, which is still awaited," Union Minister of State for Minority Affairs Mukhtar Abbas Naqvi said in written reply to a question.
The minister was asked if the National Commission for Minorities (NCM) had, in its report on the incident, stated whether the killing was "pre-mediated" and if the episode was a result of planning in which a "sacred" place like temple was used for "exhorting" people of a community to attack a "hapless" family.
He was also asked about the Ministry's reaction to the Commission findings and steps it took or proposes to take on the panel's recommendations.
Mr Naqvi did not give direct answers to the queries but confirmed the Union government had received the NCM report with its observations on the episode.
He said the Union Home Ministry had on October 5 issued an advisory to the state government stating that there is "zero tolerance" toward any attempt to "weaken the secular fabric and exploiting religious emotions or sentiments... Also the MHA has called on the states to take strictest action as per law against such elements without any exception whatsoever," Mr Naqvi added.
A three-member team of the Commission led by its chairman Naseem Ahmad had visited Bishada village near Dadri in Uttar Pradesh and interacted with family members of Mohammed Aklaqh, who was lynched following rumours of beef eating in September this year.
In its report compiled in October this year and put up on its website, the NCM had stated the lynching strongly appeared to be the result of "planning under which people were incited using a temple".
The minority panel had also described in the report as "disturbing" the "irresponsible comments" by politicians who paid visit to the village after the incident.
The NCM said it will be "quite an understatement" to say the killing was merely an "accident as has been claimed even by some persons in authority.