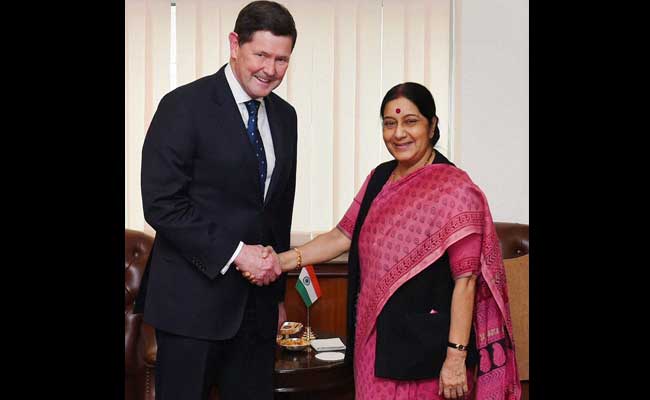 New Delhi:
Australian Defence Minister Kevin Andrews on Tuesday held talks with External Affairs Minister Sushma Swaraj ahead of his meeting with his Indian counterpart Manohar Parrikar.
The meeting discussed ways to strengthen Indo-Pacific partnership, tweeted external affairs ministry spokesperson Vikas Swarup.
Mr Andrews, who arrived in India on Monday evening on a three-day visit, is slated to meet Prime Minister Narendra Modi.
In a message ahead of his India visit, Mr Andrews said: "I look forward to identifying a range of new ideas to increase our existing defence cooperation at this year's talks.
"As the first Defence Ministers' Meeting following the release of the Framework for Security Cooperation by Prime Minister (Tony) Abbott and PM Modi during the Indian leader's visit to Australia in November 2014, this year's talks will be particularly important.
"This dialogue provides an opportunity for Defence Minister Parrikar and I to set the direction of our bilateral defence engagement in line with the expectations of the Framework.
"India is the emerging democratic super power of Asia. It is therefore sensible that the relationship between India and Australia be developed and strengthened."
He said the inaugural bilateral maritime exercise with the Indian Navy, titled AUSINDEX, to be held later this month, "is a strong signal of both countries' commitment to building defence relations".
He quoted Prime Minister Abbott as saying: "This is the time to turn the warm friendship between Australia and India, the long history that Australia and India have together, into something that will be meaningful, more meaningful for us and significant for the wider world."