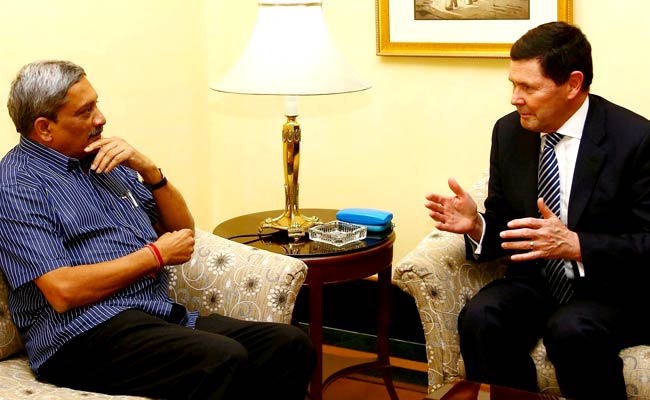 New Delhi:
Australia has sought deeper defence ties with India that encompasses cooperation in all spheres including in the field of defence technology and identified New Delhi as a key strategic partner.
Visiting Australian Defence Minister Kevin Andrews also pitched for a quadrilateral naval exercise with Japan and the US as was done in 2007.
He said Australia "recognises India's critical role in supporting security, stability and prosperity of the Indian Ocean region".
"This is why Australia views India as a key strategic partner and there is scope for us to cooperate further on broader global issues," he said delivering a lecture at the Defence Ministry-run think tank IDSA.
The minister said he was pleased that both countries are working closely in the security sector.
"This intention was formally recognised during Prime Minister Modi's visit to Australia in November 2014, where he and Prime Minister Abbott formalised a whole-of-government Framework for Security Cooperation, which will include work to facilitate greater defence interaction over time," he said.
Talking about the upcoming bilateral naval exercise, Mr Andrews said a healthy programme of bilateral defence engagement exists between the two countries.
"In this setting, it is not surprising that, being Indian Ocean states, defence engagements between Australia and India focus on joint naval cooperation," he said.
The Australian defence Minister, however, said the potential for greater cooperation between the Defence organisations of the two nations is not confined to the naval sphere.
"We are also slowly seeking to build our bilateral Air Force relationship based on our use of common platforms such as the Hawk, C-17, C-130 and P8 maritime patrol aircraft".
He said Australian Air Force recently invited India to attend Exercise PITCH BLACK 16.
Asked if he would favour a quadrilateral naval exercise as done in 2007, he said, "If indeed quadrilateral opportunities arise in the future, we would be having an inclination to be part of those exercises".
Terming such "relationship" as important, Mr Andrews said this was something that he would discuss with his Indian counterpart Manohar Parrikar.
When such an exercise was done in 2007 as part of the Indo-US Malabar exercise, China had objected following which no such exercise was undertaken after that.
This time, US and India have invited Japan to be part of the Malabar scheduled next month.
Mr Andrews also said he was looking at a tie-up with Indian Defence Research and Development Organisation (DRDO) and its Australian counterpart.
Talking about Exercise PITCH BLACK 16, he said while the issue of participation is under consideration in India, it would provide a substantial step forward in the relationship.
"PITCH BLACK is a growing multilateral exercise that offers unique training opportunities to regional air forces," he said.
Mr Andrews added that at the Army Staff Talks in August 2014, both sides had agreed in principle to explore opportunities for future exercises.
"While the distance between both nations is great, I hope we can identify appropriate opportunities in the near future," he said, adding his country is also inviting India to attend the Australian Army Skill at Arms Meeting (a soldiering competition) and its biennial PIRAP JABIRU peacekeeping Exercise.
"People-to-people links through personnel and training exchanges have proved vital to building familiarity between our defence forces," he said.
About further expanding defence cooperation between the two countries, he said,"I hope to be in a position to announce a range of new activities after my meeting with Indian Defence Minister Parrikar later today, taking another step toward realising the full potential for our relationship."