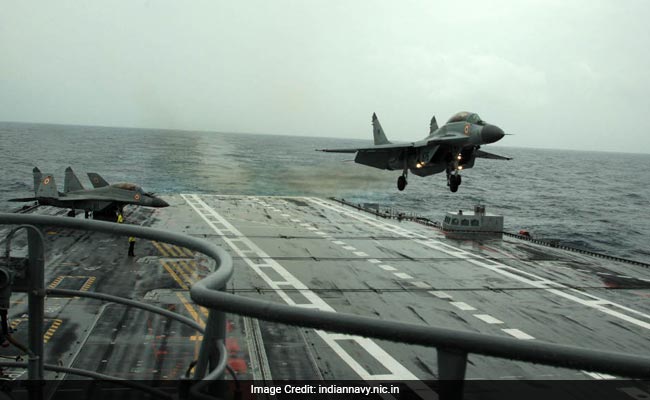 Highlights
India already has nearly a dozen of the MiG-29K supersonic fighter jets
Auditors' report says the jets have defects in engines, fuselage
Only 3 of 10 jets are available at a time, rest are out for repairs
New Delhi:
The reliability of India's mainstay naval fighter jets, the Russian-made
MiG-29K
, which India has bought in a big way, has been questioned by the national auditor, the Comptroller and Auditor General.
India already has nearly a dozen of these aircraft - which have been divided between aircraft carriers INS Vikramaditya and
INS Vikrant
. The government will soon have a fleet of 45, which comes at a cost of $2.2 billion. The supersonic fighters are replacing the ageing
Sea Harriers
, which are in the process of being phased out.
In its latest report, the auditor has said since the induction of the 12 aircraft in 2010, as many as 40 engines fitted on them had to be withdrawn because of "design related defects or deficiencies".
Also, the reliability of their electronic flight control system proved to be as low as "3.5 per cent to 7.5 per cent" between July 2012 and June 2014.
What is perhaps even more worrisome is that the "serviceability" of MiG 29K - which indicates how often an aircraft is available for operations and is not undergoing repairs -- varies between 16 per cent and 39 per cent. This means out of a fleet of 10 fighters, only one to 3 jets will be normally available for operations. The rest of the fleet would be gone for repairs.
Besides, engines problems and low serviceability, the CAG also found that airframe or fuselage of the MiG-29K had several defects. The report said the defects were first detected in 2012, which were confirmed during their subsequent trial on INS Vikramaditya a year later.
These were flagged to the Russian Aircraft Corporation. But though the issues were attended to, the airframe issues kept recurring. "The defects occurred despite numerous design improvements and modifications," the report added.
"The regular occurrence of these defects on a sortie to sortie to basis was having an adverse impact on Indian Navy pilots' training and capability of aircraft for undertaking prolonged deployments," the report added.