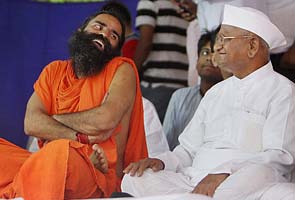 New Delhi:
At Team Anna's base camp in the capital, pitched as a people's movement, the main ingredient is missing.
At 10 am, there are barely 300 people. 75-year-old Anna is on stage; other activists, now household names, like Arvind Kejriwal appear with him intermittently. It is a pleasant, overcast day in Delhi. By 3 pm, the clouds go into a huddle, providing the city with some much-needed respite from the sweltering summer heat. The crowds too have built up with around 2,500 people having gathered at the venue. The weather should have served as an agent, but the turnout was nowhere close to what it was during Anna's epic fast last year. (
Read: Thin crowd at Team Anna fast, men misbehave with women journalists
) Anna is not fasting yet; he has threatened to join the hunger strike led by his aides on Sunday. It is only at 3:45 pm, when Baba Ramdev arrives, that there is a boost of energy. An extra 3000 people, over double, show up to see the yoga icon, establishing him as the star of this show.
This is why, perhaps, Anna ignored protests from his inner circle to strike an alliance with Baba Ramdev. Anna's campaign is about the anti-graft Lokpal Bill; Baba Ramdev is lobbying the government to recover black money or undeclared income deposited secretly by Indians in foreign banks. They have both dedicated their missions to public interest. But the yoga guru's affiliation with the BJP reportedly made him an unappealing partner for people like Mr Kejriwal. In June, BJP president Nitin Gadkari touched Baba Ramdev's feet in public. For Anna's team, a political patina - however sheer - is a worrying prospect. In December, Mr Kejriwal and former top cop Kiran Bedi campaigned against the Congress in Haryana in a bye-election. They said they weren't taking sides, but they had to highlight the failings of the Congress because as the party in power, it has failed to deliver landmark laws against corruption. The explanation didn't convince many.
Among those present at the protest camp at Jantar Mantar today is Anurag Sindhu. A year ago, he was present at Anna's camp when the activist's 16-day fast compelled India's support. Crowds then had crossed 10,000 on many days. Middle-class India, exhausted by turgid corruption in government departments and elsewhere, had found its hero. In Delhi and via satellite protests elsewhere, Anna managed to confer most-wanted status on the Lokpal Bill, which centres on the creation of a powerful national ombudsman. Anurag explains why he is back this year. "There is a lot of awareness now on corruption. We want change. That's why I'm here," he said.
But for the most part, the college students and young professionals who were at the frontlines last year have been replaced with busloads of villagers from states including nearby Haryana. Shanta Bai is here from Indore. She does not say who organized her travel here. But her agenda is clear - she hopes to get some money for her daughter's wedding.