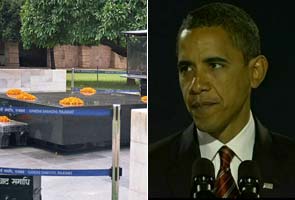 New Delhi:
US President Barack Obama may be the world's most powerful leader, but when he steps into Rajghat to pay homage to Mahatma Gandhi, he will be treated like any other visitor.
So says Rajghat Samadhi Committee secretary Rajnish Kumar, adding that the blackstone memorial on the bank of the Yamuna doesn't differentiate between people because that would be against Mahatma Gandhi's principles.
"We understand that Obama is keen to know more about Mahatma Gandhi and will visit Rajghat. Our tradition is to welcome our guests, and we welcome him," Kumar told IANS.
"However, in respect to the sanctity of the place, there will be no special arrangements. Doing special arrangements would mean valuing one person more than another which is against Bapu's (Gandhi) principles.
"But, of course, there is a protocol that is followed whenever dignitaries like the prime minister or president of other countries visit Rajghat. That will be followed," he added.
In 2006, then president George W. Bush was received by noted Gandhian Nirmala Deshpande when he visited Rajghat. Now that she is no more, Obama will be welcomed by Kumar.
Obama is scheduled be in India Nov 6-9. He will visit Rajghat on Monday.
As per protocol, a green carpet will be laid out and chairs set for the visiting dignitaries. They will enter the samadhi through the VIP gate.
"We will give the dignitaries a wreath to place on Gandhi's samadhi and later gift them Bapu's bust. We will also gift them a khadi scroll in which the seven social sins which he quoted in 'Young India' in 1925 are imprinted," Kumar said.
The seven social sins are politics without principles, wealth without work, pleasure without conscience, knowledge without character, commerce without morality, science without humanity, and worship without sacrifice.
The entire programme will last about 20 minutes.
While security will be top notch during Obama's visit, the "mistake of 2006" -- when sniffer dogs were brought inside the Rajghat ahead of Bush's arrival, triggering a huge row -- will not be repeated.
"We learn from mistakes and don't repeat them. It was a mistake to bring sniffer dogs to Rajghat in 2006 and it will not be repeated when Obama visits next week," Kumar said.
On Tuesday, Mahatma Gandhi's great grandson Tushar Gandhi cautioned Indian American authorities against repeating the 'sniffer dog' mistake.
"I know security is a concern and it has changed the way we live. But would they have allowed sniffer dogs at Lincoln Memorial or Washington monuments before our prime minister and president visit? There should be dignity in bilateral relations," Tushar Gandhi said.
"I also understand that Mani Bhavan (the Gandhi museum in Mumbai) will be closed for two days prior to Obama's visit. That is also not right," he added.