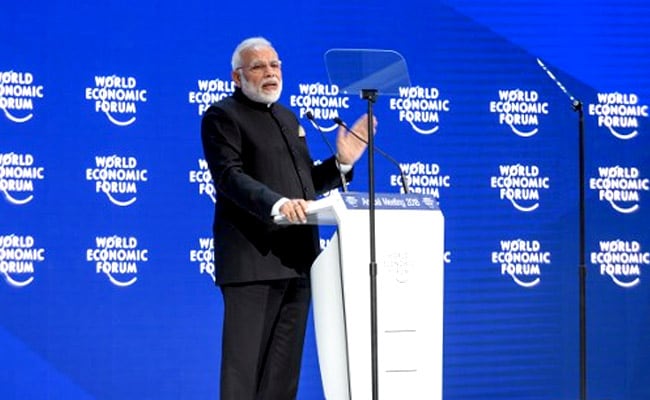 Highlights
PM delivers keynote address at World Economic Forum in Davos
Pitches India as a prized investment destination, hails globalisation
PM quotes from Tagore's poem 'Where The Mind Is Without Fear'
Davos, Switzerland:
Invoking Rabindranath Tagore, Prime Minister Narendra Modi concluded his address at the opening session of the World Economic Forum in Davos today. "The great Indian poet of the last century and Nobel laureate, Rabindranath Tagore, had imagined a heaven of freedom where the world is not broken up into fragments by narrow domestic walls," PM Modi said towards the end of his 51-minute speech delivered at the annual gathering attended by nearly 70 heads of state and governments and 2000 global business leaders.
"Come, let's together build a heaven of freedom where there is cooperation and coordination, not divide and fracture. Let us unitedly free the world from its fractures and needless walls," said PM Modi, the first Indian prime minister to address the forum.
PM Modi borrowed from one of Tagore's most popular poems -- Where The Mind Is Without Fear -- to drive home this year's theme at this WEF -- 'creating a shared future in a fractured world'.
Calling the theme relevant, the prime minister said, "The sound and meaning of the word 'fracture' is such that it frightens. And the global situation is actually frightening."
Batting for India's culture and age-old beliefs, PM Modi said, "In our culture, it is accepted that good thoughts produce good results; bad thoughts give bad results. Hence, India is the land which has the solution for this pervasive problem of fracture."
Presenting himself as a representative of 'India, Indian-ness and over 125 crore Indians', the prime minister signaled that India has arrived. "We have always believed that victory over oneself is the biggest victory. The first and foremost in this it is the victory over mind; control over mind. This is our soft power; in fact, our real power. Now, the whole world has started recognising it."