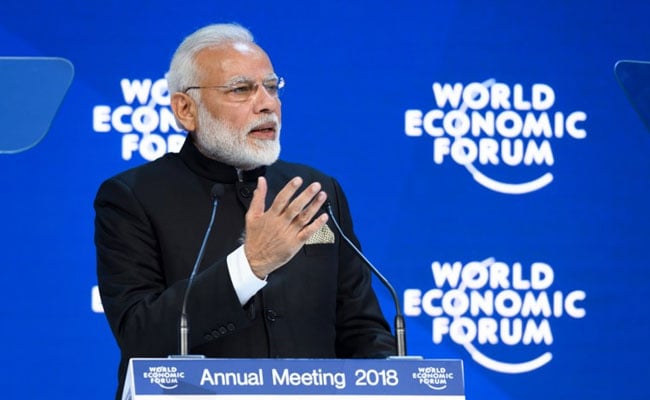 Highlights
Investing in India, travelling, manufacturing has become much easier: PM
We are removing red tape and laying out the red carpet, PM Modi said
PM addressed world leaders, global CEOs at World Economic Forum in Davos
Davos:
India is poised to become a $5 trillion dollar economy by 2025, Prime Minister Narendra Modi said today as he addressed world leaders and global CEOs at the opening session of the World Economic Forum in the snowed-in Swiss mountain resort of Davos, inviting investors to "Come to India."
Investing in India, travelling to India and manufacturing in India has become much easier, the Prime Minister said, listing his government's policies, and added, "We have pledged to end license raj, we are removing red tape and laying out the red carpet."
PM Modi said new doors are being opened by India for foreign direct investment (FDI) and that 1,400 laws that were hurdles to progress have been scrapped. "GST has been implemented, technology is being used to increase transparency." the prime minister said.
He also said, "Investing in India, travelling to India, manufacturing in India has become much easier than before."
PM Modi on a packed 24-hour visit to Davos, is the first Indian Prime Minister to attend the global meet in 21 years, aiming to showcase India as a fast-growing economic power and a potential driver of global growth.
On Monday, the International Monetary Fund or IMF said in its World Economic Outlook update released in Davos that India is projected to grow at 7.4 per cent in 2018 as against China's 6.8 per cent, making it the fastest growing country among emerging economies following last year's slowdown due to demonetisation and the rollout of the Goods and Services Tax or GST. In 2019, the IMF projected India growing at 7.8 per cent.
Earlier this month, a top IMF official had said India is "reclaiming its place as a growth leader after a short slowdown."
In his speech today, PM Modi recalled that when former Prime Minister HD Deve Gowda had attended the World Economic Forum in 1997, "India's GDP was a little over 400 billion dollars. It has grown six times since."
The Prime Minister also called upon countries to tackle three of the biggest threats the world faces - listing climate change, terrorism and the inward-looking focus of some countries that is threatening globalisation.
Protectionism is gaining ground and globalisation is losing its appeal, PM Modi said, but India is open for business.
"Instead of globalisation, the power of protectionism is putting its head up. Their wish is not only to save themselves from globalisation, but to change the natural flow of globalisation," PM Modi said at the opening of the forum, which has attracted 70 heads of state and government, chief executives and top bankers.
His comments on rising trade barriers came ahead of an address to the World Economic Forum later this week by US President Donald Trump, who has championed inward looking policies for his country, pushing an "America First" policy of getting businesses to invest in the United States instead of overseas, potentially affecting the growth prospects of emerging economies.