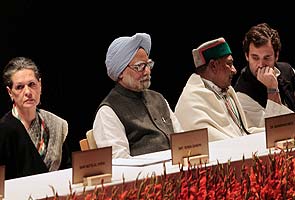 Jaipur:
Congress president Sonia Gandhi has provided the talking points for her party's brain-storming session that began in Jaipur this morning. As the party preps for the 2014 elections, its longest-serving chief set the tone by asking it to take stock of "strengths, weaknesses and threats," warning that the middle-class, with which the party hopes to reconnect, is "fed up with corruption that they face".
(Watch)
"This is a phenomenon, a churning that we must understand and continue to respond to. We cannot allow our growing educated and middle classes to be disillusioned and alienated from the political process," Mrs Gandhi said, pointing out that people were now better informed and equipped than ever before and that their expectation from their government had also grown. She reminded the younger Congressmen and women, a big chunk of the 350 people invited, to be austere. An extravagant show of money, she said, would lead to the question - where does the wealth come from?
In her 20-minute speech, Mrs Gandhi talked about the Congress' nine straight years of rule and what it had gained and lost in that time. She touched upon coalition politics, Indo-Pak relations, gender issues and crime against women and corruption, and exhorted those gathered to "speak your mind - as we are here on business that will determine our future".
That is an immediate future, with General Elections due next year. "There is increased competition and inroads have been made in our traditional strongholds. We have to strike a fine balance between respecting alliances and ensuring rejuvenation of the party," Mrs Gandhi said, adding: "We are the only pan Indian party with a visible and viable position in every village. We articulate the concerns of all, especially the weaker sections of the society. Inclusiveness is anchored in our conviction, not the outcome of compulsion as it may be for our opponents."
In the deliberations that followed, Rahul Gandhi reportedly said it was important to respect the ordinary Congress worker and see that they are not overlooked for party posts. Finance Minister P Chidambaram proposed that all vacant posts of block president should be filled up by workers below 35 to make the organisation "energetic".
The ruling party hopes to emerge from the two-day-long session armed with strategy on, among other things, how to address an alienation from the middle class, seen most recently when the government it leads was found grossly inadequate in its response to spontaneous protests after the brutal gang-rape and torture of a 23-year-old medical student in a moving bus in Delhi last month.
As thousands of students and other people took to the streets demanding justice for the student and better security for women, there was huge anger at the failure of senior ministers to reach out and respond adequately. In the end, Mrs Gandhi had to intervene and promise, "Your voices have been heard."
Many new proposals and initiatives that will be discussed in Jaipur stem from that. In the wake of the horrific assault on the young student, gender issues have been a key part of public discourse and the ruling party has taken a new slogan to Jaipur -
Pehle mahila ka samman, phir Bharat nirman
(First respect women, then build nation).
Mrs Gandhi said, "Discrimination against the girl child and atrocities against women are a blot on our collective conscience. Sexual harassment, women trafficking and female foeticide should shake us and awaken us...Gender issues are fundamental and the entire party must bring this to the heart of political activity and change mindsets."
The Congress President told the women's sub-group, in the discussions that followed, that gender sensitivity should begin with home. Praveen Davar, one of the delegates reportedly said if FDI can be passed why can't the Women's Reservation bill and that all it needed was political will.
The Congress is expected to discuss a long-standing proposal to effect 30 per cent reservation for women within the organisation.
The party brass will also debate on the role of the Congress in leading coalitions, with the party now clear that elections can no more be fought alone and that coalition politics is here to stay - a significant departure from Rahul Gandhi's strategy to fight elections alone in states like Bihar and Uttar Pradesh, where the Congress has been out of power for decades. It is also a U-turn from its Panchmarhi declaration where it had espoused the principle of
Ekla Cholo Re
(march ahead alone).
The Chintan Shivir will end on January 20 with the adoption of the Jaipur Declaration. After the two-day brain-storming, a session of the All India Congress Committee (AICC) will be held on Sunday.
Rajasthan's capital has got a face-lift for the event, and with many political A-listers in town, security arrangements are elaborate. The Congress, which rules the state, is at pains to point out that the party is footing the bill for the Chintan Shivir or brainstorming camp, not the tax-payer.
(with inputs from Agencies)