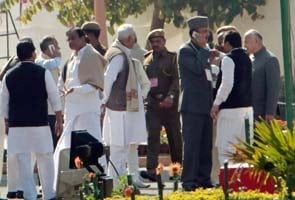 Jaipur:
Making new friends while retaining the old ones, reconnecting with the middle class, reaching out to the youth, and the use of social media. These are some of the many suggestions that senior leaders of the Congress party have come up with at the Jaipur Conclave.
The issue of forging electoral alliances was a keenly debated subject. A section of the leaders felt that the Congress should cede space to its allies in states where it has been out of power (read Uttar Pradesh, Bihar, Tamil Nadu) and should test its own strength. Parliamentary affairs minister Kamal Nath quite clearly reflected such a view.
In an exclusive interview to NDTV, Mr Kamal Nath said that the party should keep pre-poll alliances to the minimum.
"There are two kinds of coalitions, pre-election and post- election. We should keep pre-election coalitions to the minimum, so that our spread continues. Post-election, if we do not have the numbers, we have to stitch together a coalition. That's a reality in all parliamentary democracies," Mr Kamal Nath said.
(Read full story here)
But, there are many who strongly argued for pre-poll alliances. Their assessment is that of the 543 Lok Sabha seats, Cong has minimal presence in 300 seats and therefore needs alliances. Another reason: pre-poll alliances get primacy in case of a fractured mandate.
Reaching out to the urban middle class is also an issue that figured prominently. Minister for housing and poverty alleviation, Ajay Maken, pointed out that in the last elections, Congress won 92 of the 168 urban seats and if it wants a repeat, it must reach out.
One way to do that is to use the language and means that the younger generation understands best. Modern technology platforms like Twitter and Facebook should be used by the Congress to send its message, party leaders felt. Kapil Sibal said apart from youth, the party should reach out to the marginalised sections of society.
Protection of minorities and women is an issue that was raised by Kapil Sibal and Sheila Dikshit. While everyone agreed that the Congress should send a strong message and perhaps set an example by debarring tainted candidates from contesting elections, former Punjab Chief Minister Amarinder Singh sounded a word of caution. In states like Punjab, where the relations between the Akalis and the Congress are adversarial, false cases could be filed against popular leaders.
These points have now been submitted to the Congress President and are likely to be debated by the Congress Working Committee, the party's highest decision-making body, before the Jaipur Declaration is finalised.