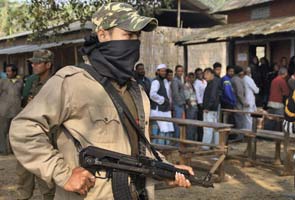 Guwahati:
Two people were killed today and 11 others seriously injured in firing by security men amid clashes at a panchayat vote counting centre in Assam's Hatsingimari subdivision where indefinite curfew has been imposed.
"Indefinite curfew has been imposed in Hatsingimari subdivision and counting of votes stopped there," district deputy commissioner Kumud Kalita told PTI.
The supporters of contestants attacked police and Border Security Force men at a counting centre in Hatsingimari subdivision, under Mancachar assembly constituency in Dhubri district, alleging that the the process for counting was delayed, official sources said.
The angry supporters attacked the security personnel by pelting stones at them and the vote counting personnel leading to a chaotic situation, the sources said.
The protesters were lathicharged but when the situation turned violent, security forces opened fire to quell the mob.
Two persons died on the spot and seven others were critically wounded, sources said and added four security men were also seriously wounded in the clash and admitted to hospital.