Highlights
Himanta Sarma said nobody can escape "divine justice"
He also said God "makes us suffer when we sin"
Mr Sarma was speaking at a government function in Guwahati
Guwahati:
Assam health minister and the
BJP's star north-east strategist
Himanta Biswa Sarma has drawn criticism and jibes from his former colleagues in the Congress for linking accidents and life-threatening diseases like cancer to "sin... past life...and divine justice."
Mr Sarma, 48, was addressing school teachers at a government function in Guwahati on Tuesday when he talked about good and bad karma and said in Assamese, "God makes us suffer when we sin. Sometimes we come across young men getting inflicted with cancer or young men meeting with accidents. If you observe their background you will come to know that it's divine justice. Nothing else. We have to suffer that divine justice."
He also said, "In this lifetime or in our previous life, or perhaps my father or mother... perhaps that young man did not do anything, but his father has done something wrong... no one can escape divine justice."
The minister, who is a law graduate and has a PhD, was advising the teachers to "work hard and be honest," after distributing appointment letters to them.
Congress lawmaker and leader of the opposition in the Assam assembly, Debabrata Saikia said the minister's comments were insensitive. "His statement has hurt cancer patients. This reflects his mentality," Mr Saikia told reporters.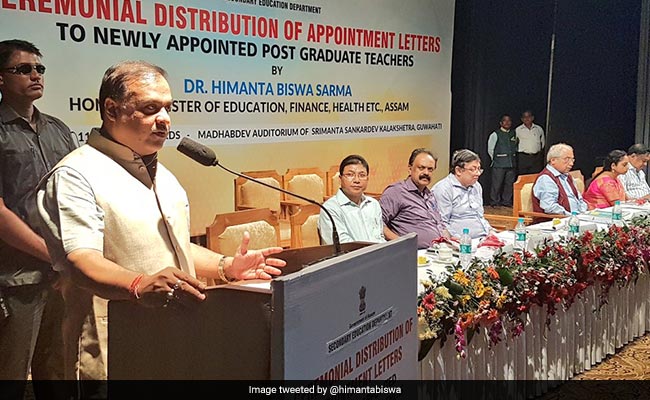 "Cancer is divine justice for sins' says Assam Minister Sharma. That is what switching parties does to a person," tweeted senior Congress leader P Chidambaram, prompting Mr Biswa to respond also on Twitter, "Sir, please do not distort. Simply I said that Hinduism believe in karmic law and human sufferings are linked to karmic deficiency of past life. Don't you belief that too? Of course in your party I do not know whether Hindu philosophy can be discussed at all (sic)."
Assam's main opposition party AIUDF also criticised the state health minister over his comments, news agency PTI reported. All India United Democratic Front leader Aminul Islam said Mr Sarma is trying to cover-up a high number of cancer cases in Assam. "He has given up, he can't control," Mr Islam told PTI.
Himanta Biswa Sarma is credited with the BJP's turn of fortunes in the north-east ever since he quit the Congress and joined the party. Inducted by the BJP months before assembly elections in Assam, he helped the party win power in the state for the first time ever, uprooting his former mentor Congressman Tarun Gogoi, who was chief minister of the state for 15 years.
Since then Mr Sarma has strategically delivered
two more north-east states
-- Manipur and Arunachal Pradesh -- for the BJP.
(With inputs from PTI)