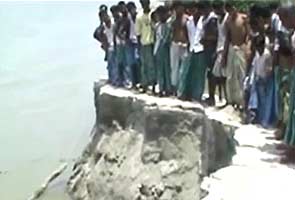 Guwahati:
An evacuation alert has been sounded in Assam by the state administration as the floods situation continued remained critical, with 11 districts reeling under the overflowing waters of River Brahmaputra and its tributaries following torrential rains. Nearly one lakh people have been affected by the deluge.
The Kaziranga National Park, a world heritage site which is home to two-thirds of world's one-horned rhinoceros population, is also partially flooded and many animals have been forced to take shelter on the highlands.
Heavy rainfall in the catchment areas of neighbouring Arunachal Pradesh has caused river Jiadhol to rise and inundate fresh areas in the worst-hit Dhemaji district, where over 25 villages are flooded, official sources said. Tinsukia, Chirang, Nagaon, Golaghat, Jorhat, Kamrup, Karimganj, Lakhimpur, Morigaon and Sibsagar are the other districts that have been affected.
The flood victims, who have been rendered homeless in the district, claimed that flooding was severe as there were no river embankments or those breached by earlier floods not repaired before the deluge.
Most of the roads were damaged or affected, while several others either partially or fully submerged, the sources said, adding, many road embankments had been eroded and approaches of bridge and culverts washed away by the flood water.
Erosion has also started on approaches on Dhemaji side on Khalihamari Butikur Road at Laumuri and the road surface inundated by flood water.
Leakage, seepage and erosion have also occurred on Kumotiya embankment.
Floods have damaged six roads, one bridge, three culverts in Golaghat district, breached an embankment each at Madanpur and Chandpur in Karimganj district.
The Brahmaputra was flowing above the danger level at Nematighat in Jorhat district, Burhidehing at Khowang in Dibrugarh district, Desang at Nanglamuragat in Sibsagar and Jia Bharali at N T Road Crossing in Sonitpur.