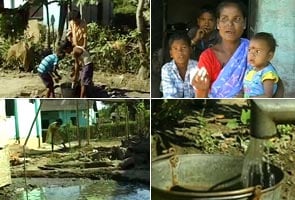 Guwahati:
Twenty people have died of cholera in the last one month in Assam's Sonitpur district and considering that the deaths have been reported from some of the affluent tea estates, questions are being raised about the living conditions of tea workers in these gardens.
Assam's Bagmari tea estate's labour colony is filled with squalor and filth. Even after an outbreak of cholera in this area, children are drinking what could be contaminated water.
The garden authorities, however, appear disinterested.
"There were some problems in our garden but it is totally under control," said S Raha, Manager, Baghmari Tea Estate.
But the living conditions tell another story. Toilets are broken so the people defecate in the open. The cholera bacteria dwells in the sewage-contaminated water.
"Nobody ever comes to inspect the labour line and we go to the gardens for toilet," said Alvina, a resident of Bagmari Labour Quarters.
Sadharu TE claims they had a government health checkup in October and there was no indication of cholera.
The government has decided to take stringent action. FIRs are being filed against the gardens and senior health officials may even be suspended. Some of the estates are now plugging the holes.
"I am responsible for what is happening here in my garden, and whatever steps the government has taken we have to face it," said Ravindra Singh, Manager, Shakomato Tea Estate.
Sonitpur district has nineteen tea gardens including the largest garden in Asia. Companies like Mcleod Russel own majority of these gardens and even though these are hundred-year-old estates the labourers live under appalling health and sanitation conditions.