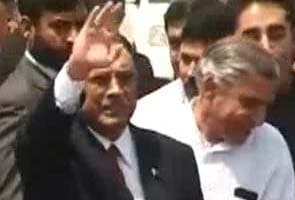 New Delhi:
Pakistan President Asif Ali Zardari's grey Pakistan Airforce aircraft landed at Delhi's Palam Airport at around noon. He is currently at the 7 Race Course Road residence of Prime Minister Manmohan Singh, where, over a lunch of mini dosas, biryani and much more, the two countries are expected to lay the road ahead for their relationship. Sources say Congress president Sonia Gandhi is not attending the lunch.
Accompanying him is son Bilawal Zardari and 13 other family members in his 40-member delegation. He was received at the Airport by Parliamentary Affairs Minister Pawan Kumar Bansal. Bilwal tweeted, " "AOA India Peace be with you. I have just landed in Delhi. 1st ever visit."
Mr Zardari and Dr Singh are meeting today after almost three years - they last met in Yekaterinburg Russia in 2009. There may be no dramatic announcements today; Mr Zardari is on a private visit to the Khwaja Moinuddin Chishti Dargah at Ajmer and Delhi is a diplomatic stopover. Sources say there will be a one-on-one meeting between Dr Singh and Mr Zardari before the lunch that the former hosts. There are no delegation level talks scheduled.
Though there is no structured agenda for talks, Mr Zardari is expected to invite Dr Singh to Pakistan by the end of this year. Sources said trade, education and culture could be part of the talks between the two leaders. An easing of the visa regime could be discussed, they said. Power from Punjab to Pakistan and border trade could also be discussed, the sources said, adding that other issues would be left to foreign-minister-level talks later.
The Indian PM is also expected to raise concern on terrorism and sources said, also the issue of Hafiz Saeed, seen as the mastermind of the 26/11 Mumbai terror attacks and who now has a 10-million-dollar bounty on his head, announced by the US last week.
Ahead of the visit, however, President Zardari said he did not expect the issue of Hafiz Saeed to be the focus of his meeting with Dr Singh in New Delhi. "My stance on Saeed is not different from that of my government. My visit to India is of a religious nature and I do not think Manmohan Singh will make me sit (and discuss only) this issue," Mr Zardari said in Lahore yesterday. India wants Saeed, who is a free man in Pakistan, arrested and prosecuted for his role in the Mumbai attacks of 2008. Pakistan has repeatedly said it needs more evidence, which India insists it has handed over.
The big question then, will the lunch meeting today go beyond a mere photo op?
As photo ops go, the one that seems to have created most buzz is a GenNext meeting. At lunch, Bilawal Zardari, the 24-year-old son of Mr Zardari will meet Rahul Gandhi. Mr Zardari's contingent includes Pakistan Interior Minister Rehman Malik and Foreign Secretary Jalil Abbas Jilani.
By 3 pm Mr Zardari's entourage is scheduled to leave for Jaipur in a special aircraft, from where a short chopper ride will land them in Ajmer at about 4.10 pm. From the Ajmer helipad, it is a 12.3 km drive to the Dargah.
There is huge security in Ajmer and at the famous shrine, where Mr Zardari is expected to spend about 45 minutes. In that time, the Dargah will be closed to all other visitors. About 1,500 policemen have been posted in and around the Dargah; the security arrangements include rapid response teams and counter-terrorism units. Security inspections were on till late last night in Ajmer.
Mr Zardari last visited Ajmer in 2005 with his wife Benazir Bhutto. She had visited the Dargah in 2003 and prayed to Garib Nawaz for the release of her husband; Mr Zardari was in prison then. Once he was released, both visited the shrine two years later.
From Ajmer, Mr Zardari leaves for Jaipur and then Delhi and then straight out to Lahore.
As he heads to Delhi, Mr Zardari faces criticism from back home for going ahead with his India visit despite an avalanche in Siachen burying over 120 Pakistani soldiers.
Yesterday, up to 135 people, mostly Pakistani soldiers, were buried after the avalanche hit a Pakistan army camp in the mountainous Siachen area, known as the world's highest battleground. No survivors have been found even after a huge all-day search involving more than 150 soldiers, sniffer dogs, and helicopters.
Pakistanis tweeted, "How can #Zardari visit #India when a great tragedy has just struck#Pakistan? We've lost 120+ of our brave men" and "#Zardari did the same when the floods struck. No respect for national tragedies. Hopeless dictator - self claimed."
Last night, Mr Zardari met Prime Minister Yousuf Raza Gilani, Army Chief General Ashfaq Parvez Kayani and Foreign Minister Hina Rabbani Khar at the Governor's House in Lahore. They discussed issues that were outstanding with New Delhi, Pakistan media reports said.
Since their last meeting in 2009, both Dr Singh and Mr Zardari have been bogged down by their own internal crises, but have quietly pushed the bilateral dialogue forward, with the prime ministers of both countries meeting. The India-Pakistan dialogue is back on track, especially with positive moves on trade and officials say the lunch meeting will be a chance for the President and the PM to touch base and review where things stand. Since it is not a formal meeting, diplomats say it gives them more room to informally discuss the road ahead and perhaps pave the way for a visit by the PM to Pakistan. The PM recently said he was ready to go if the countries did something solid.
Mr Zardari's 40-member delegation includes interior minister Rehman Malik and officials say that while the larger issue of terrorism will be discussed, the $10 million bounty on Hafiz Saeed will also come up. Opposition parties are watching closely and will keep pressure on. BJP spokesperson Nirmala Sitharaman said, "the talks can't be for the sake of talks. Zardari is welcome as a visitor or a tourist but we have to be heard. The UPA was the first to jump to talks with Pakistan soon after 26/11, with promises made of bringing perpetrators to justice. But nothing happened, they are freely roaming around in Pakistan."
Pakistan Prime Minister Yousuf Raza Gilani said last week in the Pakistan Parliament that Hafiz Saeed is an "internal issue" of Pakistan. Mr Gilani further said that any evidence against Hafiz Saeed should be provided to Pakistan so that it can be examined by the country's independent judiciary.