Patna:
Highlights
Nitish Kumar returns as Chief Minister with BJP as his ally
He ended partnership with Congress and Lalu Yadav last evening
Senior colleague Sharad Yadav skipped swearing-in this morning
Nitish Kumar
hitting reset on his government in Bihar
has reportedly upset the man with whom he runs the Janata Dal (United) or JD(U) - 70-year-old Sharad Yadav.
Since last evening, when
Nitish Kumar prime-timed his resignation
and truncated his existing alliance to return to his ex, the BJP, Sharad Yadav has not said a word. And he was in Delhi, not Patna, when Nitish Kumar
took oath as Chief Minister for a sixth time
. Sharad Yadav met Rahul Gandhi shortly after the
Congress Vice President attacked Nitish Kumar
for choosing "selfish gains". The alliance that Nitish Kumar killed yesterday included the JDU, the Congress and Lalu Yadav.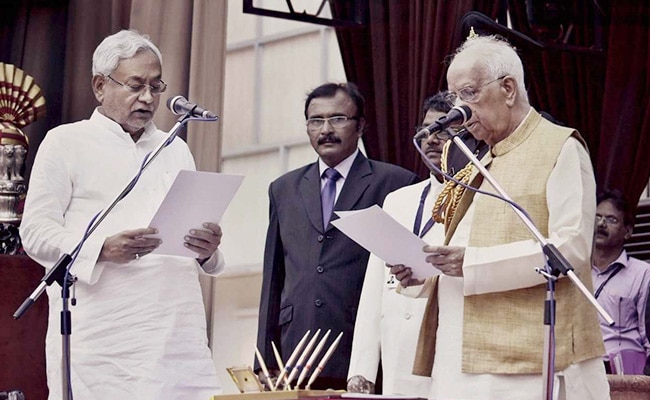 The meeting with Rahul Gandhi adds to the perception that Sharad Yadav is in a sulk. Critics suggested that now that his party is officially a member of the BJP's national coalition again, an important cabinet position could be what he's angling for. This evening, he will meet with Finance Minister Arun Jaitley, who described him as "a good friend of many years." Sharad Yadav has a busy evening - he's also scheduled to host a small group of MPs like Anwar Ali from his party who have spoken against Nitish Kumar's renewed ties with the BJP.
At two recent meetings of an 18-party front which included the JD(U), Sharad Yadav assured the attendees that his party was committed to fighting the BJP and Prime Minister Narendra Modi.
His guarantee was made amid a sea of evidence to the contrary.
Nitish Kumar backed demonetisation
in November, distinguishing himself as the only opposition leader to endorse Prime Minister Narendra Modi's shock decision; in June, just two months after he helped assemble an anti-BJP front, he went renegade as it faced its first challenge in the election for the President of India; the JDU, he said, would vote for the BJP's choice. Nitish Kumar did not attend that meeting - or the one that followed to shortlist the candidate for Vice President, who will be elected next month; it was Sharad Yadav who represented him. Annoyed opposition leaders noted that the Bihar Chief Minister had found the time to attend two meals hosted by the PM while skipping their conferrals.
Nitish Kumar has pitched his
break-up of his alliance with Lalu Yadav
on the corruption charges against the latter's son, Tejashwi Yadav, who was No 2 in the Bihar government. But the signs of a carefully plotted re-hitching with the BJP were virtually neon last night- the BJP took barely an hour after he resigned to proclaim it would tie up with him, the Prime Minister and Nitish Kumar exchanged warm tweets, and by this morning, a new government was in place ahead of a trust vote tomorrow.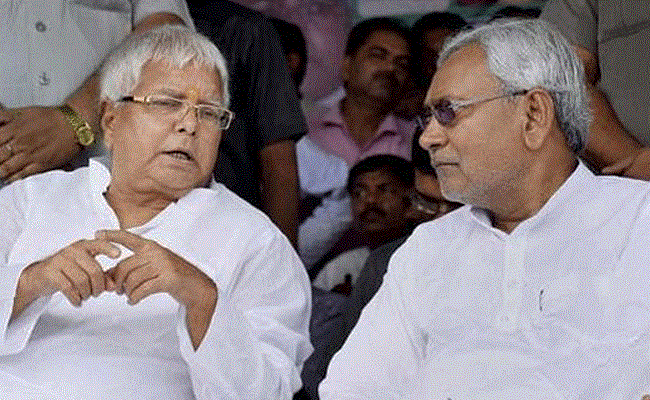 Lalu Yadav's Rashtriya Janata Dal or RJD has 80 of Bihar's 243 lawmakers. Nitish Kumar's JDU has 71, the BJP has 58 giving Nitish Kumar seven votes more than what he needs to remain Chief Minister. But of his own party's lawmakers, five are Muslims and six are Yadavs, the caste that's loyal to Lalu - and Sharad Yadav is reportedly concerned about alienating them and the community through the renewed arrangement with the BJP.
Lalu Yadav has already urged that Muslim legislators from the JDU must "vote with their conscience" tomorrow. Ali Anwar, an MP from the party, has said "This is a disaster, a tragedy. I will share my objections if I am allowed at a party meeting." But RCP Singh, another senior JDU leader, sarcastically observed that Anwar Ali had no problem in twice being elected to the Rajya Sabha with the BJP's backing. "His term is ending soon and he fears we won't give him another shot so he is making these statements," he said.
Get the latest election news, live updates and election schedule for Lok Sabha Elections 2019 on ndtv.com/elections. Like us on Facebook or follow us on Twitter and Instagram for updates from each of the 543 parliamentary seats for the 2019 Indian general elections.