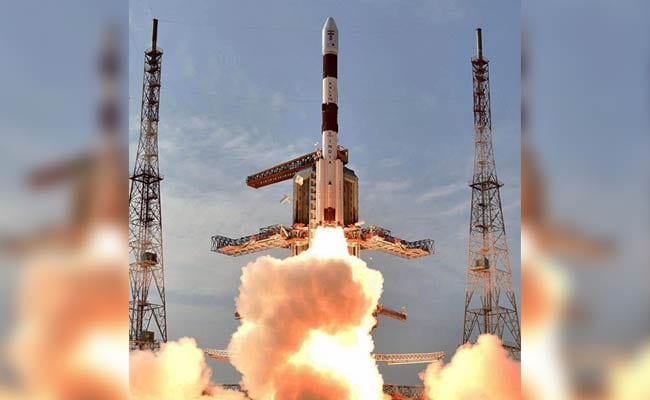 Highlights
ISRO will try to put 104 satellites in space using PSLV rocket on Feb 15
Three satellites are from India, the rest from other countries
A maiden mission to Venus and second mission to Mars also on the cards
Bengaluru:
India will boldly go to Venus for the first time and re-visit the Red Planet very soon. Buried and hidden in the hundreds of pages of the new-format electronic budget documents, is the first formal acknowledgement by the government about these two new bold inter-planetary sojourns to Earth's immediate neighbours. This uplifting news comes ahead of the Indian Space Research Organisation (ISRO) attempting to undertake its mega launch where it will place not five, ten or twenty, but a record 104 satellites in space in a single mission. No other country has ever tried to hit a century in a single mission.
If all goes according to plan, on the morning of February 15, ISRO will put 104 satellites in space using the Polar Satellite Launch Vehicle (PSLV). Three satellites will be from India and a 101 other satellites of different countries.
India's ISRO, considered a leading space organisation globally, is one of the best and most competitive in the multi-billion-dollar space launch market. It hopes to set an enviable benchmark for other nations.
Prime Minister Narendra Modi has made science and technology, research and space programmes as one of his government's top priorities. To give it a boost, Finance Minister Arun Jaitley has given the Department of Space a massive 23 per cent increase in this year's budget. Under the space sciences section, the budget mentions provisions for "Mars Orbiter Mission II and Mission to Venus".
The second mission to Mars is tentatively slated for 2021-2022 and as per existing plans it might even involve putting a robot (rover) on the surface of the Red Planet. While India's first mission to Mars undertaken in 2013 was a purely Indian mission, the French space agency has shown keenness to collaborate in making the Mars rover for the second mission.
During a visit to India this month, Michael M Watkins, Director of NASA's Jet Propulsion Laboratory, said they would be keen to at least put a telematics module so that NASA's rovers and the Indian satellites are able to communicate with each other.
The second Indian mission to Mars will aim at exploring the planet in detail from its surface as the first mission - the Mars Orbiter Mission or MOM - is performing well from while orbiting the planet.
India's maiden mission to Venus, the second planet in our solar system, is likely to be an orbiter mission, similar to the first mission to mars. Mr Watkins said a mission to Venus is very-very worthwhile as so little is understood about that planet and NASA would definitely be willing to partner in India's maiden voyage to Venus. Towards that, NASA and ISRO have already initiated talks this month on trying to jointly undertake studies on using electrical propulsion for powering this mission.
India's visionary in inter-planetary exploration K Kasturirangan, who was the former chairman of ISRO, says, "India should be part of this global adventure and exploring Venus and Mars is very worthwhile."
On February 15 India's workhorse rocket - the PSLV - will make its 39th launch, carrying 1378 kg of satellites to be deployed in space. The first to be let off will be India's high resolution Cartosat-2 series satellite made especially to monitor the south Asian region at a resolution of less than one metre. Though this earth imaging capability is not unusual but the rest of the satellites on board are unique. Two other small Indian satellites, each weighing less than 10 kg are forerunners of a new class of satellites called ISRO Nano Satellites which the engineers seek to master. What will follow next is a trailblazing performance by the PSLV, when, at an altitude of over 500 km above Earth, it will release 101 satellites. These include one each from Israel, Kazakhstan, The Netherlands, Switzerland, the UAE and a whopping 96 from the United States.
Eighty-eight of the American satellites belong to a San Francisco based start-up company Planet Inc which is sending a swarm of small satellites - 4.7 kg each, which it calls 'Doves'. This constellation will image earth like never before and with a high repeat rate providing satellite imagery at an affordable cost. This suite of 101 small satellites, whose combined weight is 664 kg, will be released in space in a manner akin to a typical school bus which drops off children at their respective bus stops in a sequential manner.
From previous launches, ISRO has mastered the art of ensuring that no collisions take place. In less than 600 seconds all 101 satellites will be released into space each travelling at a velocity of over 27,000 km per hour or at 40 times the speed of an average passenger airliner.