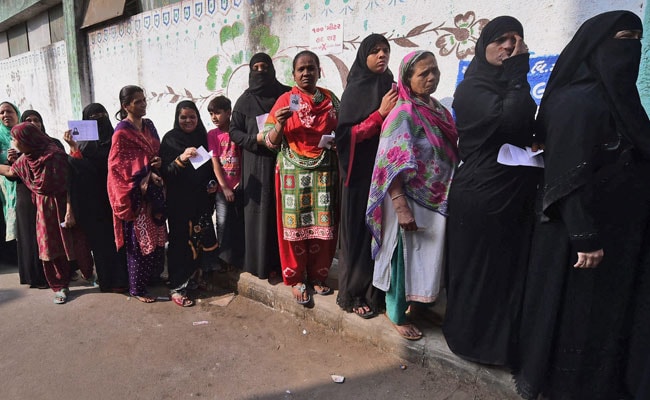 New Delhi:
As exit poll results started streaming in on Thursday for the bitterly-fought Gujarat elections, predicting a
BJP win with near unanimity
, the Congress busied itself in rejecting the conclusion and underscoring the statutory warning that comes with forecasting results before they are actually out.
An
NDTV poll of 10 exit polls
conducted by other networks showed that the BJP was likely to get 116 out of 182 seats in Gujarat, improving its 2012 tally by one. The Congress was seen getting 65 seats, dashing expectations of scripting a dramatic upset in PM Modi and BJP chief Amit Shah's home state.
"The interesting thing about exit polls is that they are very sensational filler between the close of polls and when results come out. I think over the last 10 years... exit polls have been right and wrong. In the case of Bihar, all the exit polls turned out to be wrong," Congress leader Manish Tewari said on NDTV's show Reality Check.
"There was definitely a change of mood this time. There was anger against the BJP government on the streets. People were very, very vocal and vociferous. So therefore, if you juxtapose the ground mood against the numbers which have been put out by various exit polls, it doesn't really add up. So I would hold my judgment," he said.
Congress spokesperson Shobha Oza also echoed similar sentiments. "We have seen exit polls in Bihar, Tamil Nadu, Punjab. All of them proved to be wrong. So, how much can one trust the exit polls," Mr Oza said.
Other Congress representatives took to Twitter to voice their scepticism about the exit polls.
Most #ExitPoll predictions were wrong for Delhi, Bihar, Tamil Nadu, Bengal, Even UP & Punjab. Also they have an Urban Bias. That is why I never trust Exit Polls.

- Rachit Seth (@rachitseth) December 14, 2017
We will get the people's verdict on December 18. My sense of this election is that we in the Congress have regained our confidence. With each passing day, we will get stronger. BJP in 2019 is no longer inevitable. We are in the game #ExitPoll

- Salman Anees Soz (@SalmanSoz) December 14, 2017
Counting is on Monday
for both Gujarat and Himachal Pradesh.
The BJP has governed Gujarat for 22 years in a row. The campaign this year for the opposition has been led by Congress President Rahul Gandhi and has involved acrid attacks and counters. Prime Minister Narendra Modi has alleged that senior Congress leaders including former premier Dr Manmohan Singh colluded with Pakistani officials at a dinner event in Delhi earlier this month in an attempt to influence the Gujarat result. The Congress' epic own-goal was its leader, Mani Shankar Aiyar, referring to the PM as "Neech" (lowlife), after which he was suspended from the party.
On Thursday, the Congress accused the Election Commission of performing as "a puppet of the BJP" after it said the Prime Minister was
allowed a road show
after he voted in his home state. The Congress said the leniency shown to the PM is in stark contrast to the Election Commission asking Rahul Gandhi to explain his comments about Gujarat in a television interview on Wednesday after campaigning had officially ended.