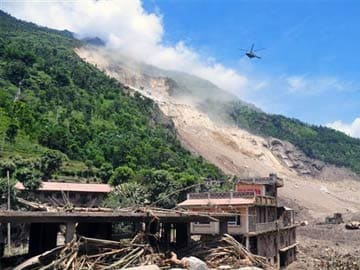 Patna:
The Bihar government has issued a high alert and evacuated 20,000 people living along the embankment of the Kosi River as a 10-metre high wall of water is expected to sweep down the river from Nepal soon, officials said.
The alert comes in the wake of a massive landslide over Bhote Kosi, one of the major tributaries of the Kosi River in Nepal.
The state government has cautioned several districts in the northern part of the state about the drastic rise in the water level. The Indian Army and the Air Force have been kept on stand-by to help in relief operations.
Eight teams of the National Disaster Response Force or NDRF and four teams of the State Disaster Response Force have been pressed into service. An additional seven teams of the NDRF are being mobilised from West Bengal.
Bihar Disaster Management Department Principal Secretary Vyasji said the state government has put its personnel on alert and instructed the affected districts to make arrangements to evacuate 1.5 lakh people in eight districts.
"We have sent our own team of engineers and officials to the site where Bhote Kosi, a major tributary of Kosi River, has been blocked due to an enormous landslide last night, damming the river and resulting in a massive accumulation of water. The team will immediately inform us when the Nepal Army blasts the debris to free the river," said Vyasji.
"The Central Water Commission estimates tell that 14 lakh cusec water has accumulated at the landslide site, while the Indian Embassy in Nepal has informed our National Disaster Management Authority about the accumulation of 25 lakh cusec water. In both cases, it is a huge amount of water," said Vyasji.
Evacuation of those living between the Kosi River and its embankment is going on in Supaul, Saharsa, Madhepura, Khagaria, Bhagalpur, Araria, Purnia, Madhubani districts, he said.
The state government has set up 84 relief camps, said Vyasji.