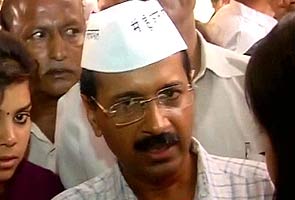 New Delhi:
Activist-turned-politician Arvind Kejriwal says the Cabinet reshuffle clearly demonstrates the many infirmities of the Prime Minister and the government.
Like the Opposition BJP, Mr Kejriwal has questioned the demotion of Jaipal Reddy, who was moved from the Petroleum Ministry to Science and Technology. "Jaipal Reddy is considered to be an honest man and was removed," Mr Kejriwal said. He also objected to the promotion of Salman Khurshid who was elevated from the Law Ministry to Foreign Affairs at a time when his NGO is being investigated for allegedly embezzling lakhs of funds meant for the differently-abled.
"The government is conveying a message that corrupt people will be rewarded," said Mr Kejriwal, who has been demanding Mr Khurshid's exigent removal from office. On Thursday, he plans to hold a rally in Farrukhabad, the minister's constituency in Uttar Pradesh, to highlight the allegations of graft against Mr Khurshid to voters.
Like the BJP, Mr Kejriwal says that Mr Reddy was removed as Oil Minister because he did not allow deals loaded heavily in favour of Mukesh Ambani's Reliance Industries for the D6 gas fields in the Krishna Godavari (KG) basin off India's east coast. Once India's second-biggest producer of natural gas, the D6 fields have been under-performing.
Mr Kejriwal was also harsh on Congress leader Rahul Gandhi, who has once again refused to join the government, but played a major role in deciding the changes in the Cabinet. "He has power without responsibility," Mr Kejriwal said. Mr Gandhi is believed to have pushed the Congress to introduce younger ministers in a government that has often been criticised for a senior-citizen bias. So younger leaders like Sachin Pilot and Jyotiradtiya Scindia have got promotions to Ministers of State with Independent Charge. "Is being young their only qualification?" Mr Kejriwal asked. "What work have they done so far in their ministries?"