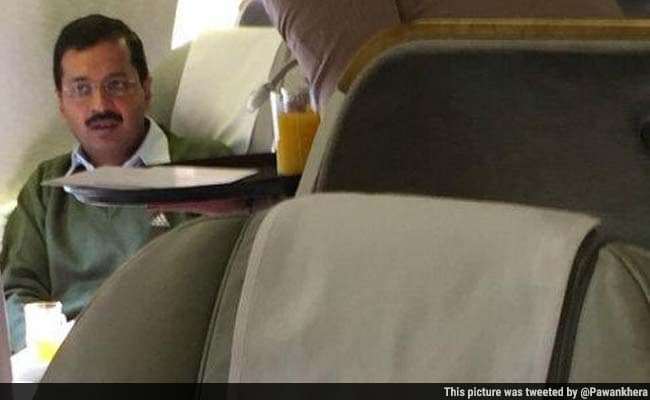 New Delhi:
Aam Aadmi Party chief Arvind Kejriwal today flew business class to Dubai to attend a felicitation event, sparking strong reaction from the opposition which said his "real face" has been "exposed".
The Aam Aadmi Party or AAP, however, came to Mr Kejriwal's defence, asking whether it was a crime to travel business class, a facility provided by the organisers.
The AAP chief left for a five-day visit to Dubai and New York this afternoon. In Dubai, Mr Kejriwal will receive the award for Asia's most inspiring and young social change maker at the World Brands Summit. He will also address the Abu Dhabi chapter of the Institute of Chartered Accountants of India (ICAI).
Mr Kejriwal will then proceed to New York, where he will deliver a lecture at the prestigious Columbia University and dine with his party supporters.
Mr Kejriwal, a former bureaucrat, is known for his simple lifestyle even when he became the Delhi Chief Minister. He preferred to travel in his Blue Wagon R and opted for a flat as his official accommodation.
Taking a jibe at Mr Kejriwal, Union Minister Rajiv Pratap Rudy said when he met the former chief minister of Delhi at the Republic Day parade, he was surrounded by policemen.
"I had a privilege of taking his photograph and asking Mr Kejriwal - 'You are a common man and you are surrounded by 60 odd Delhi Police personnel'," Mr Rudy said.
"They do not have any agenda anymore and it is merely a lip service and he stands thoroughly exposed because he does not have anything to speak now. He is a man who prefers to fly business class and that is not very unusual and the people of Delhi must know this," Mr Rudy said.
The Congress too mounted attack on Mr Kejriwal, saying his real face has been exposed.
"AAP is completely exposed and the real face of the party has been revealed. AAP does not do what it says and does what it does not say. On one hand they talk about the common man and on the other their chief travels in the business class to collect donation. This clearly shows the intention of the party," Congress spokesperson Shoba Oza said.
After the attack from the Congress and the BJP, the party rallied behind its leader. "The AAP makes it clear that entire programme details for Kejriwal's five-day trip has already been made public and the ticket for his entire tour has been arranged by his IIT batch mates and organisers. The party is surprised at the attempts to rake up an unnecessary issue when all details are in the public domain and all details about the trip have already been provided," the AAP said in a statement.
Defending Mr Kejriwal, AAP Delhi convener Ashutosh said his party chief had expressed desire to travel in economy class, but the organisers insisted that he should travel in business class as he was not keeping well.
"Is it a crime to travel in business class? Has anyone asked Prime Minister Narendra Modi why he used private jets of industrialists during the Lok Sabha election campaign and will he answer those questions?" he asked.
"This is an attempt of BJP and Congress to divert attention from the fundamental issues because they do not want to discuss them. They don't want to discuss what Congress and BJP did to put an end to corruption, women's security, streetlights. These are the real issues," Mr Ashutosh said.