Highlights
Kejriwal apologised to ex-Punjab Minister for saying he backed drug trade
AAP will apologise to others who have sued them too: Party leader
AAP embroiled in 'dozens' of cases, says wants to focus on governing
New Delhi:
Arvind Kejriwal's Aam Aadmi Party that has accumulated dozens of cases filed against its leaders has decided to start resolving them. For the 20-odd defamation cases pending against them, this implies AAP leaders will apologise, a party leader told NDTV after Chief Minister Kejriwal retracted his allegations against former Punjab Cabinet Minister Bikram Singh Majithia who he had last year accused of being a part of the drug trade in Punjab. Sources said the party is also considering making the apology offer to Finance Minister Arun Jaitley who had sued Mr Kejriwal for accusing him of corruption during his 13-year tenure as the head of the main cricket administration body for Delhi.
Here are the 10 points on this story:
Chief Minister Arvind Kejriwal faces dozens of cases relating to defamation, putting up posters and violating orders banning protests not just in Delhi but many parts of the country including Varanasi, Amethi, Punjab, Assam, Maharashtra and Goa.

AAP spokesman Saurabh Bharadwaj said the decision to "amicably sort out" pending court cases against Chief Minister Kejriwal and others was taken on advice of the party's legal team because the cases were "taking a toll on the already strained resources of the party and individuals".

Sources told NDTV that to amicably settle libel cases like the one filed by Mr Majithia, the party would ask its leaders to apologise. The party is also considering reaching out to Union Ministers Arun Jaitley and Nitin Gadkari, who had taken AAP leaders to court for libel after he was counted among "India's most corrupt politicians" in 2014.

The apology has provoked a sharp backlash within the Aam Aadmi Party. A top AAP leader in Punjab Sukhpal Singh Khaira called the retraction by the Chief Minister a "meek surrender".

AAP, which had spawned out of an anti-corruption movement, was seen to have recklessly targeted top politicians, accusing them of corruption. Critics say the attacks were an attempt to consolidate its reputation as a party which would fight corruption.

It is not clear how the high court, which has spent a considerable time hearing the defamation case filed by Mr Jaitley, would take to an apology if it were to be made. Mr Kejriwal had last year opposed the court's initiative to fast track the case but the plea was rejected.

The apology to Mr Majithia is the second case in seven months where Chief Minister Kejriwal has retracted his allegation. Last August, Mr Kejriwal had apologised to BJP leader Avtar Singh Bhadana to end a bitterly-fought defamation suit. Mr Bhadana had been called corrupt by the AAP leader back in 2014.

Mr Majithia, who is a member of the Parkash Singh Badal family that ran Punjab for 10 years, told NDTV that he sued Mr Kejriwal because his "family's honour was at stake".

In the run-up to last year's Punjab Assembly elections, Mr Kejriwal had accused the Akali Dal government of patronising drug mafia and called Mr Majithia "Punjab's drug lord", who he would "drag by his collar" to jail once he comes to power.

In his letter to Mr Majithia released on Thursday, Mr Kejriwal says: "Now I've learnt that allegations are unfounded... I hereby withdraw all my statements and allegations made against you and apologise."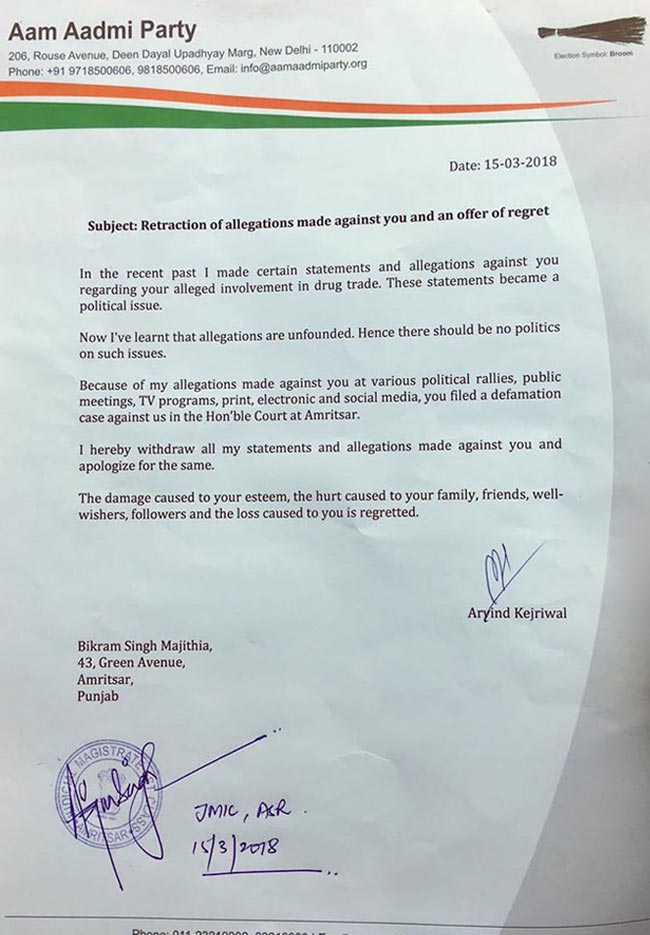 (This story has not been edited by NDTV staff and is auto-generated from a syndicated feed.)