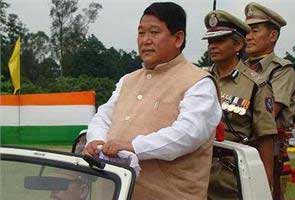 Itanagar:
India takes pride in its satellite technology, but that has been of little help to trace the missing helicopter of the Arunachal Chief Minister, Dorjee Khandu. For four days now, the sensitive border state is virtually without a Chief Minister.
And prayers are being conducted across the state. Monks at Itanagar's Buddhist study centre are praying for the safe return of Dorjee Khandu and his fellow passengers.
Images taken by Sukhoi radars and micro-satellite of the Indian Space Research Organisation (ISRO) pointed traces of metallic objects in at least three places. But it's still not clear if this is the wreckage of a chopper.
Bad weather has halted the aerial searches and the ground searches have yielded little result.
In all, seven locations around the Sela Pass and the Dirang area have been identified for combing ops.
"The terrain is very high... 13,000 feet... it's raining and snowing. You need trained people to climb the steep hills. Our forces are operating in difficult conditions," said Mr Narayanswamy, MoS at the Prime Minister's Office.
Arunachal shares a sensitive border with China and the Centre does not want to see a political vacuum here.
But with locals still hoping for Dorjee's safe return, naming a caretaker may send a wrong signal.
"Our leadership is aware of the situation. From time to time, we have been giving them feedback on the search ops and the other issue you have raised. It is in the knowledge of our high command," said Mr Narayanswamy.
"Everyone in Arunachal is worried. We are praying for Dorjee and the other's safety," said Sonam Wanghchuk, Secretary, Buddhst Study Centre.
While officials are trying to rely on Sukhoi radars and ISRO pictures to find the exact spot, others are still praying for a miracle.