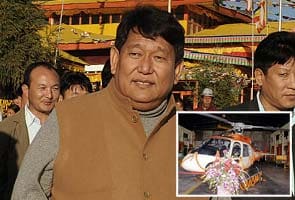 New Delhi:
After the death of Arunachal Pradesh's Chief Minister Dorjee Khandu in a helicopter crash, the government has decided that top aviation watchdog, Directorate General of Civil Aviation (DGCA), will carry out security audit of helicopters and aircraft of all operators in four weeks.
The DGCA will also conduct inspections of all critical airports and airfields within four weeks.
These decisions were taken after DoNER Minister BK Handique held a safety review meeting with the DGCA and aviation ministry officials.
Arunachal Chief Minister Dorjee Khandu was found dead in Luguthang, near the China border on May 4, five days after the helicopter that he was using went missing.
Mr Khandu left Tawang in Arunachal Pradesh on April 30 on a Pawan Hans helicopter. He was headed to Itanagar. The helicopter lost contact twenty minutes after it took off as it approached Sela Pass 13,000 feet above sea level. The area is known to be a challenging one for pilots, and the bad weather may have added to the complexity of the navigation required.