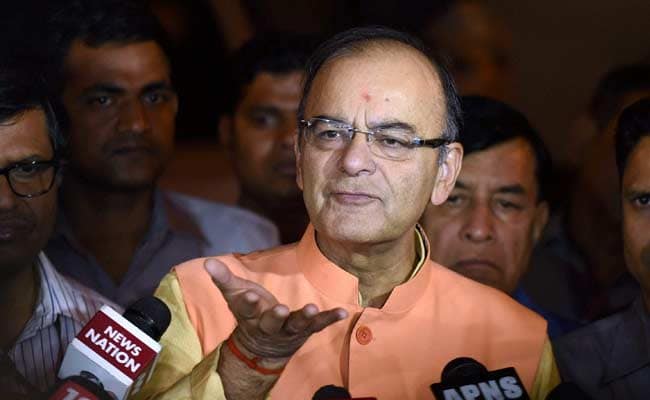 New Delhi:
With dal prices touching a record Rs 210 per kg, the government today went into a fire fighting mode, raiding hoarders to recover about 36,000 tonnes of pulses, which along with the imports will be pushed into the market to cool prices.
Finance Minister Arun Jaitley, who today called a meeting of the inter-ministerial group for the second time in a week, blamed the states for not doing enough to crack down on hoarders and black marketeers.
As much as 5,000 tonnes of imported pulses have already arrived and are being distributed to the states and another 3,000 tonnes are on the way, Mr Jaitley added.
In Delhi, imported tur dal (pigeon peas) is being sold at a subsidised rate of Rs 120 per kg at nearly 500 outlets of Kendriya Bhandar and Safal.
"It is a matter of regret that most states are doing nothing to discharge their responsibility in taking action against hoarders. It is only in the last 3-4 days, after the central government amounted pressure, that staggering quantities of 36,000 tonnes of dal have been recovered. Raids are still continuing," he told reporters after the meeting.
Mr Jaitley warned of penal action against the hoarders even as he expected prices to cool at retail level in the next two-three days after quantity seized in raids as well as those imported are released in the market.
"The raids are still continuing and over the next 2-3 days, more raids which are been conducted by the states, more more hoarded quantity is likely to be recovered," Mr Jaitley said.
"There is time lag between wholesale price easing and retail price easing... therefore, it is slowly then translated into price easing into the market itself," he said.
Mr Jaitley said Tamil Nadu has started picking up a lot quantities of imported pulses and Andhra Pradesh too also expressed desire to lift the commodity for retail sale.
On raids, he said "the most staggering figure is that in last two-three days, after central government put pressure on states, 3,290 searches all over India have been conducted.
"We are talking of having imported 5,000 tonnes, 3,000 more tonnes is in process of landing. Compare to this, the amount which was recovered in raids has already touched 36,000 tonnes... that now will be slowly offloaded in the market."
The inter-ministerial group, he said, discussed the reasons for the shortage which include lower production of pulses in India and abroad.
"It is essentially available in Malawi, Mozambique, Myanmar, and there also production is little low, which led to rising of global prices. But third additional reason appears to be (hoarding)... in view of this low availability, the hoarders have hoarded large quantities," he said.
According to a release, maximum quantity of 23,340 tonnes was seized in Maharashtra, followed by 4,525.19 tonnes in Chhattisgarh, 2,546 tonnes in Telangana, 2,295 tonnes in Madhya Pradesh, 1,168 tonnes in Haryana, 859.8 tonnes in Andhra Pradesh, 479.6 tonnes in Karanataka, 68.47 tonnes in Rajasthan, 4.32 tonnes in Tamil Nadu and 2.44 tonnes in Himachal Pradesh.
The Centre has also asked Haryana state cooperative Hafed to procure pulses from the market and sell through its outlets in the state.
In Uttarkhand, mandi samitis have opened retail outlets in Dehradun, Haridwar and Udhamsingh Nagar for selling tur dal at Rs 145 pert= kg. The state government has also been directed to distribute pulses at decided rate via ration shops, it added.
Following action against hoarding in some states, tur prices today declined marginally to Rs 205 per kg from Rs 210 on Tuesday in retail markets.
Prices of moong, masoor and gram (chana) also showed a slight decline to Rs 130, Rs 110 and 82, respectively, while urad rates remained unchanged at Rs 198 today from Tuesday's level, government data showed.
Prices have shot up due to a fall in output by two million tonnes in 2014-15 on deficient and untimely rains.
To control skyrocketing prices, the Centre has taken several measures such as creating a buffer stock of 40,000 tonnes, sale of imported pulses at cheaper rates and imposition of stock limits on traders as well as departmental stores, licensed food processors, importers and exporters.