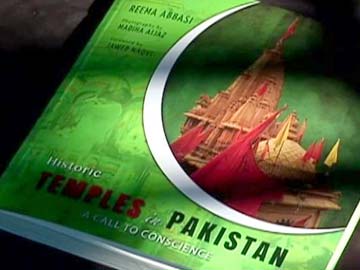 The book, 'Historic Temples in Pakistan: A Call to Conscience', authored by Karachi based journalist Reema Abbasi, focuses on minority Hindus who celebrate Indian festivals on the other side of the border.
A result of extensive research, the book highlights around 400 photographs that cover different aspects of overlooked historical temples and shrines in Pakistan that few know about.
Madiha Aijaz who teaches photography at the Indus Valley School of Architecture, does justice to the book by beautifully capturing the multi-coloured and vibrant images. "It is a subject that is just so less documented and it hasn't been talked about," she says.
Reema and Madiha travelled far and wide to various pilgrimage sites like Hinglaj, the abode of goddess Durga in Balochistan; the Katas Raj temple in Punjab, one of the holiest in Hinduism and known for providing refuge to the Pandavas; the Kalka cave temple in Sindh; the Panchmukhi Hanuman Mandir in Karachi, among others.
The book makes a profound remark on the exquisiteness of the Hindu culture. Reema does a feature on Parveen, a Pakistani Muslim woman who observes the Karva Chauth fast for her husband. "This was a Muslim doing the Karva Chauth...the pheras around the tree...sindur and everything," she says.
The book vividly captures detailed narratives and photographs of shrines, rituals and Hindu festivals in Pakistan. The photographic element of historic temples and Hindu festivals like Diwali and Holi, is proof that faith is indestructible and religious harmony prevails. "As long as Life is infinite, faiths will be indestructible."