Jaipur:
Army on Tuesday launched fresh operations to rescue villagers stranded in flash floods in Rajasthan where heavy rains have killed 11 people, including six children and rendered hundreds homeless.
Army, national and state disaster response forces have moved hundreds to safer places, especially in four districts - Pali , Jodhpur, Bhilwara , Chittorgarh - where low lying areas are completely inundated. Rains have also led to a flood-like situation in many parts of Rajasthan, especially in the south and south west districts.
"Everything is washed away, our hut, our rations and our bedding," said Moonga Ram, as he clutched on to a packet of food given by local volunteers, which he said was dinner for his children.
The family was now living in a temporary shelter after the Rohet village in Pali district was submerged from 72 hours of continuous rainfall.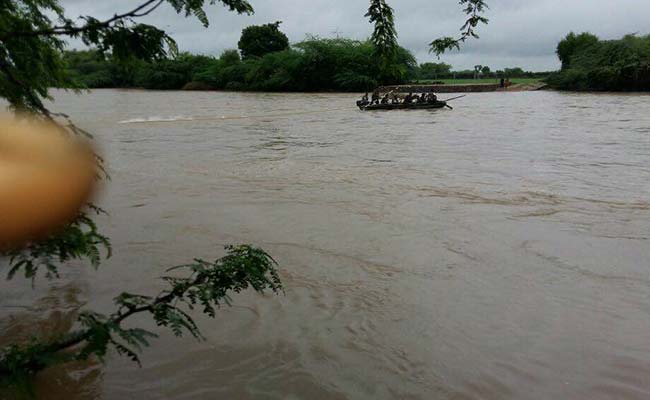 The rains have flooded fields and farmers are suffering heavy losses from destroyed crops.
"We are worried about our crop of Bajra and Moong, with so much inundation its practically destroyed, how will we manage to feed our children," says Mangla Ram Chaudhary.
Already faces with challenges of moving their livestock to higher grounds, farmers have little left to feed the cattle.
"Fodder we had stored is washed away, many animals can die," says Gogi Devi as she feeds her cow and buffalo on the steps of her house with her home surrounded with water.
Chief Minister did an aerial survey of the flood affected districts yesterday and directed the administration to visit the affected villages.
Disaster Relief Force secretary Rohit Kumar said that a total of two rescue operations were launched to take out stranded people to safer places today near Sumear river in Pali and Tonk district.
Get Breaking news, live coverage, and Latest News from India and around the world on NDTV.com. Catch all the Live TV action on NDTV 24x7 and NDTV India. Like us on Facebook or follow us on Twitter and Instagram for latest news and live news updates.