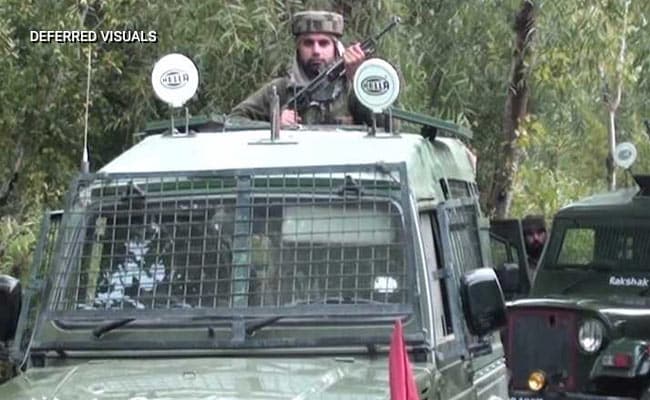 Srinagar:
Two soldiers including an Army Major were killed when terrorists opened fire on a search party of security forces this morning in south Kashmir's Shopian district, police said. Another jawan was also injured in the gunfight.
A search operation was launched by Army in Zaipora area of Shopian district on Wednesday night after they received intelligence inputs about the presence of terrorists in the vicinity, a senior cop said.
During the search operation, the terrorists fired upon the party in which three armymen were injured. The injured were rushed to the Army hospital in Srinagar, where two of them, including the major, died of their injuries, police said.
"One jawan was killed in that initial burst of firing by the terrorists. One major sustained grievous and critical injuries, he was shifted to the hospital where he succumbed to his injuries," Inspector General Kashmir Muneer Khan told NDTV.
At the Army's 15 Corps headquarter in Srinagar, it was an emotional farewell to Major Kamlesh Pandey and Sepoy Tenzim Chhultim at a wreath laying function. Chief Minister Mehbooba Mufti and Deputy Chief Minister Nirmal Singh were also present.
In a separate incident, two Hizbul Mujahideen terrorists were killed in a joint operation by the police and the Army this morning in Gopalpora village in Kulgam district. One of those killed, Aaqib, was involved in an attack on a bank cash van in May in which five policemen and two bank guards were killed. He was also involved in weapon snatching, police said.
Police say the second terrorist, Suhail, was involved in instigating people and firing indiscriminately upon security personnel from the mob.
The security forces have recovered two weapons from the site of the encounter, the official said.
Sources say there are 90 active terrorists in south Kashmir. The strategy of the security forces has been to target terrorist leaders while maintaining an active presence in areas considered safe havens for them.
"We are getting good and specific information and we are acting on them. These operations will go on till we eliminate the whole leadership of the terrorist outfits," Muneer Khan said.