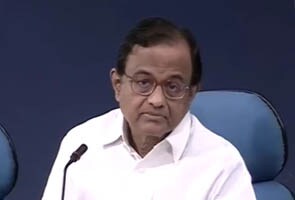 New Delhi:
The Army has taken a strong stand against any dilution or amendment to the controversial Armed Forces Special Powers Act (AFSPA), making it difficult for the government to move forward on this proposal, Finance Minister P Chidambaram said on Wednesday.
Mr Chidambaram, who was the Home Minister till a few months ago, said any question about opposition to amend the Act to make it "more humanitarian" should be posed to the Army.
"The armed forces, and especially the Chief of Army Staff, the present one and the previous one, have taken a very strong position that AFSPA should not be amended," he said while delivering the K Subrahmanyam Memorial Lecture in New Delhi.
There was a proposal to amend the AFSPA so as to lift it from certain areas of Jammu and Kashmir but the Defence Ministry is strongly opposed to it.
"Now, how does the government move forward in the face of such widely divergent views on the sensitive subject"? Mr Chidambaram said.
Mr Chidambaram and Jammu and Kashmir Chief Minister Omar Abdullah are in favour of dilution of AFSPA.
"My view on AFSPA is known, the view of the Chief Minister of Jammu and Kashmir on AFSPA is known.
We have Jeevan Reddy Committee report but yet if the Army takes a very strong stand against any dilution or any amendment to AFSPA, it is difficult for a civil government to move forward," Mr Chidambaram said.
"I think you should ask the question to the armed forces and ask why are they so opposed to even some amendment to AFSPA which will make AFSPA more humanitarian," he said.
On the issue of National Counter Terrorism Centre (NCTC), Mr Chidambaram said the Centre was in favour of it while state governments were opposed to it.
"Central government is championing NCTC, state governments are opposing NCTC. Very seasoned critics will jump to criticism if there is an opportunity to criticise the central government. They are completely silent in criticizing the state governments. Why is that?" he said.
Mr Chidambaram wondered why there were no seminars or conferences in states like Tamil Nadu or Odisha or Gujarat to speak against the respective Chief Ministers for opposing NCTC.
On VHP leader Praveen Togadia's alleged hate speech, he said "I have no comments on the person you have mentioned.
These are persons who are determined to create disharmony in society. The law must take its course".
"I don't know what the person you referred to (has) said, whether he said it, whether it is an offence. I can't say it, I can't judge sitting here. The law must take its course if there is a violation," Mr Chidmabaram said.