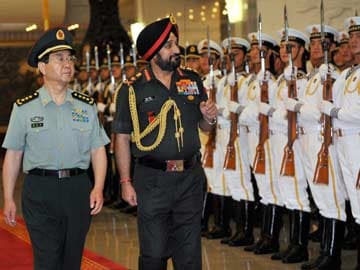 Beijing:
Army Chief General Bikram Singh today addressed the cadets of the National Defence University in Beijing, a day after holding hectic parleys with China's military top brass on a host of issues including the implementation of the new border defence mechanism.
On the last day of his visit to Beijing, he addressed the cadets of the People's Liberation Army (PLA) National Defence University, a rare event for an Indian Army Chief.
Mr Singh, who is the first Indian Army Chief to visit China in nine years, interacted with the cadets on India-China relations and the ties between the two militaries, which remained frozen for long until few years ago following the 1962 border clash.
Mr Singh spoke on strategic military leadership challenges in the 21 st century, without making any direct reference to Sino-India ties but later answered questions on the bilateral ties and relations between the two militaries, Indian officials said.
The Indian media was not invited to the event and officials were reluctant to provide details of the interaction.
Mr Singh, who is retiring this month, apparently wanted it to be non-media event, they said.
He will go to Shanghai tomorrow where he would visit a naval base and visit a Chinese naval ship before leaving for home.
Commenting on his visit, the Chinese Foreign Ministry said the talks focused on improving militaries ties despite the "historical issues".
"India and China have more common interests than divergences. The two countries have the capacity to deal with historical issues," Chinese Foreign Ministry Spokesman Hong Lei told a media briefing with the Chinese officials.
"Military to military relations are an important component of bilateral relations. The two countries should enhance mutual trust and practical cooperation, properly manage disputes and establish a military to military action that is commensurate with the bilateral relations," he said.
Yesterday Mr Singh, who is also the Chairman of the joint Chiefs of Staff Committee, held talks with Chief of General Staff of PLA General Fang Fenghui, Vice Chairman of China's Central Military Commission General Fan Changlong, Vice President Li Yuanchao and Vice Executive Foreign Minister Zhang Yesui.
Mr Singh held wide-ranging talks with Fang, discussing increasing of military to military contacts, implementation of last year's Border Defence Cooperation Agreement (BDCA) and increasing high level exchanges between the two militaries.